Slovakia comes into the 2021 World Junior Championships as one of the lower-ranked teams from the top division on the International Ice Hockey Federation (IIHF) world ranking list. With some of the stacked teams appearing in this tournament, medal contention might be a far-off dream.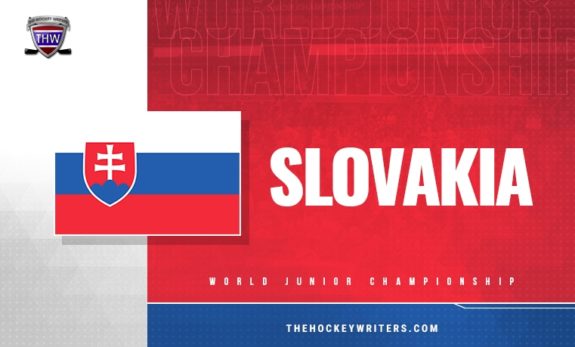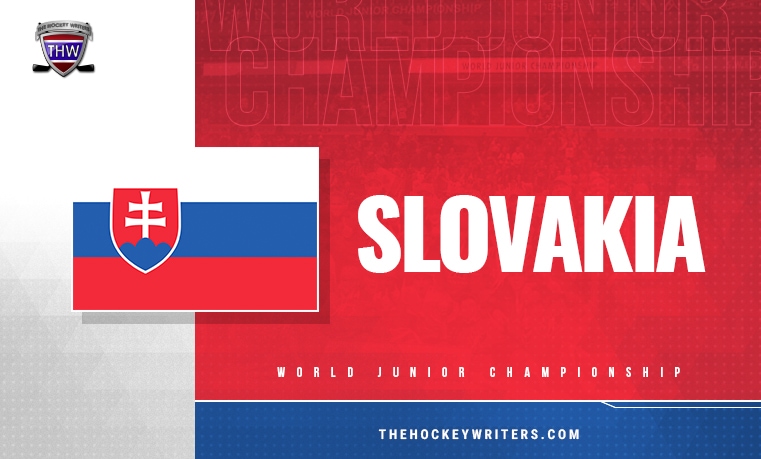 That doesn't mean that Slovakia is not a team worth watching. There are players on this team with real NHL potential whose names are likely to become more well known in the coming decade. This is a chance for these kids to compete against some of the best hockey players the world has to offer in their age group. It's the chance of a lifetime.
Defenders
Slovakia has four defenders returning from their 2020 team. Last year's tournament was not a good one for Slovakia and for them to see improvement this year, these returning players are going to have to bring their game to the next level. Two of them are going to play a key role in their team.
Samuel Knazko: (78th Overall 2020 Draft: Columbus Blue Jackets)
Knazko is a fun hockey player to watch sometimes and an utterly maddening one other times. His skills with the puck on his stick can be electrifying. Will Scouch does an excellent scouting report on Knazko in his video series and he sums the player up very well.
The offensive toolbox that he possesses and his ability to be the defensive quarterback of an offensive zone cycle is second to almost nobody in the tournament. It's the deficiencies in his defensive game and his tendency to occasionally make horrendous decisions that hold him back from being a truly elite player. Those deficiencies aside, he has enough positives going on that the Columbus Blue Jackets saw fit to take him in the third round of the draft, and they've been pretty good at drafting defenders in recent years.
RELATED: Samuel Knazko – 2020 NHL Draft Prospect Profile
Slovakia has made Knazko their captain and it's a big role for him. This tournament is a chance for him to establish himself as a capable leader and to show off some of the skills that got him drafted. It would also be a good time for him to show he's grown out of some of his bad habits. If Slovakia is going to have any on-ice success in this tournament, they're going to need Knazko to be their best player game-in and game-out.
David Mudrak: (Undrafted 2020, 2021 Eligible)
Mudrak is one of the associate captains for the Slovak team. I really thought he had a shot at getting drafted late in the 2020 NHL Entry Draft. He had a really good season for TPS U20 team in the junior SM-Liiga league in Finland. He also had a pretty good tournament last year. He led all Slovak players in assists with three.
Mudrak isn't flashy but he's very effective. There's a good blend of size, defensive awareness and offensive upside to him that NHL teams are looking for. He was supposed to play with the Oshawa Generals of the OHL after being taken in the CHL Import Draft this year.
An OHL season would've done wonders for him as far as North American exposure. This tournament might be his best chance to turn some heads and get himself drafted in the 2021 NHL Entry Draft. I expect him to be Slovakia's best all-around defender in the tournament.
Forwards
There's not a lot of household names or players well known outside of European scouting circles up front for this Slovak team. They do, however, have one of the premier snipers in the OHL though. They also have a center playing with his 2021 Draft status on the line.
Martin Chromiak: (128th Overall: 2020 Draft: Los Angeles Kings)
Chromiak was the finisher on one of the most dangerous lines in the OHL last season. There were some who chalked his success up to the skills of his linemates Shane Wright and Zayde Wisdom. That's the only reason I can think of that Chromiak slid to the fifth round of the draft. I thought he could go as high as the late first round.
RELATED: Martin Chromiak – 2020 NHL Draft Prospect Profile
His ability to finish is just that good. That might make him seem one-dimensional, but Jari Kurri built a hall-of-fame career shooting Wayne Gretzky passes into open nets. Chromiak's one-timer is a legitimate scoring weapon that more than makes up for any deficiencies in his game. He has the ability to find the gap in defenses and get himself open with an angle on net. When the puck comes to him, he's able to put it on net with a high degree of velocity and accuracy.
The one-timer isn't his only weapon though as the kid also has a very accurate wrist shot. His threat as a shooter requires goalies to take note of him and they sometimes over-commit. This allows him to demonstrate underrated abilities as a playmaker. Chromiak does require his linemates to do a lot of work in order for him to be his best, but if opposing teams are silly enough to leave him open, he can beat any goaltender in the tournament.
Oleksij Myklukha: (2021 Draft Eligible)
This was supposed to be Myklukha's breakout year in North America with the QMJHL. He joined the Rouyn-Noranda Huskies mid-season last year and only put up eight points in 21 games. Joining a team mid-season and adjusting to North American ice means that it would be very unfair to judge him on just those 21 games. This season he was supposed to get a full season with the Huskies and maybe get some traction towards his draft stock. COVID-19 has complicated things a bit and he has played no meaningful hockey this year prior to this tournament.
The Slovakian/Ukrainian/Polish top prospect for the #2021NHLDraft , Oleksii Myklukha, scores this shorty on the Americans. Myklukha has been a dominant player in various European junior leagues since he was just 14. I consider Myklukha a top 15 prospect for 2021. pic.twitter.com/8xUBNZZ8BJ

— TPEHockey (@TPEHockey) December 12, 2018
Myklukha has the skill set of a top center in any league. He's an excellent face-off winner and a tenacious forechecker. He hounds pucks in all three zones and doesn't shy away from puck battles in corners or open ice. With the puck on his stick, he shows keen vision, soft hands and some scoring touch of his own. He has shown the capability to effectively "do it all" at every level he has played at in his youth career.
This season was supposed to be his year to show he could do it at the CHL level. This tournament now might be his only chance, this year, to establish his ability to be highly effective against tough international competition.
The 2004 Kids
Juraj Slafkovsky, Simon Nemec and Filip Mesar are going to be the talk of European scouts for the next couple of years. These three players are all 2022 draft-eligible. I've already heard talk of Nemec and Slafkovsky being considered in the top ten for the 2022 Draft and it's not just idle chatter.
Simon Nemec
Nemec already has the size that NHL scouts crave from defenders and could still grow. His 6-foot-1, 192-pound frame allows him to play with men in Slovakia's Tipos Extraliga. It's more than just his size though. This kid has the makings of a future top-pairing NHL defender along the lines of Kris Letang.
His gap control and defensive awareness are very advanced for his age and he doesn't seem to get rattled or panic in his own zone. Where he turns heads though is his ability to create transitions and rush up the puck. He shows flashes of brilliance in creating zone exits and zone entries, employing good footspeed and keen vision.
In case you didn't see this. #2022NHLDraft prospect, defenseman Simon Nemec and his beautiful power-play assist during Sunday's game between HK Nitra and HK Dukla Trenčín. Simon was also invited to the WJC camp and he is a lock to make it imo. pic.twitter.com/DM3HXuhbIn

— Rusty7550 (@rusty7550) December 2, 2020
Once he's in the offensive zone with the puck he's able to employ his skills to create offensive scoring chances. Occasionally his youth and inexperience will rear their head, but he's quick to learn from his mistakes. It's incredible to think how good he could be in two more years.
Filip Mesar
Mesar is smaller a playmaking forward. He was incredibly dominant in the Slovak U20 league as a 15-year-old last season. So much so, that he has spent this entire season with HK Poprad's main club in the Tipos Extraliga. Mesar has often displayed the ability, to pass pucks accurately through traffic and tight spaces in the offensive zone.
He's very good at retrieving pucks along the wall and sending them back to teammates in dangerous scoring areas. This is the first time we'll get to see if Mesar is able to continue to be effective as the level of competition ramps up facing other top prospects from around the world.
Juraj Slafkovsky
The first impression of watching Slafkovsky is almost inevitably, "That kid is 16?" He is simply gigantic, checking in at 6-foot-4 and 218 pounds. You see that size and would be forgiven for thinking that he's a power forward type of player but that's not it at all. While Slafkovsky is capable of using his size to bully his way through smaller opponents he honestly reminds me a bit of Jaromir Jagr. I know how crazy that is, but he has a trick in his toolbox that Jagr was notorious for.
Juraj Slafkovsky (2022) did the thing in OT to give TPS a 4-5 win over JYP in today's U16 action. He also added two assists and could've easily had at least a couple more. He's too quick, skilled and physically mature for this level. #2022NHLDraft #HCTPS pic.twitter.com/6CT2tpvBRX

— Lassi Alanen (@lassialanen) February 23, 2020
If challenged 1-on-1 during a rush Slafkovsky will advance towards the defending player. When the defender tries to poke check the puck off his stick, he will quickly move the puck across his body (sometimes through the defender's legs) and simply step around the defender. He makes it look so simple and makes a lot of defenders look silly. I remember that being a signature Jagr move and always associated it with the NHL's second all-time point scorer. If Slafkovsky uses this signature move and creates a highlight-reel-quality goal in this tournament, you're going to want to watch it.
This team represents a microcosm of where Slovak junior hockey is now and where it is headed in the very near future. This tournament helps marks the dawn of a new era in which Slovak hockey hopes to ascend to new heights. There are rising stars here, taking their first big step towards international recognition. You don't want to miss it.
All the 2021 World Junior Championship Team Information:
Austria — Team Preview — Roster
Canada — Team Preview — Roster
Czech Republic — Team Preview — Roster
Finland — Team Preview — Roster
Germany — Team Preview — Roster
Russia — Team Preview — Roster
Slovakia — Team Preview — Roster
Sweden — Team Preview — Roster
Switzerland — Team Preview — Roster
USA — Team Preview — Roster
Selection Camp Invites by NHL Team
Draft Eligible Players to Watch
One Player to Watch for Each World Junior Team
7 Predictions for the 2021 World Junior Championship
---
---
Jack Dawkins is a freelance scout, analyst and avid watcher of "way too much hockey." He has joined The Hockey Writers team to cover all things Washington Capitals, New Jersey Devils, Minnesota Wild, Los Angeles Kings, Arizona Coyotes and Florida Panthers. He's an absolute data hound and loves using stats and analytics to calculate and extrapolate data for analysis.