Day 5 of the World Junior Championship brought with it Canada's best all-around performance. Following a game against Slovakia that lacked offense and intensity, the Canadians were right back to their scoring ways, keeping Team Switzerland winless and reaching double digits in goals for the second time in 3 games.
In a near-flawless effort, all four of Canada's lines seemed to click, after head coach Andre Tourigny shuffled them during Monday's practice. Putting a 10 spot on the board is impressive enough, but Canada's ability to distribute the puck and maintain pressure made Tuesday's offensive outburst all the more triumphant.
On top of the Canadians filling the net, Braden Schneider's return after serving his one-game suspension solidified Canada's back end. Behind that, Devon Levi was nothing short of spectacular for a 3rd straight game, turning aside 15 shots en route to his first shutout of the tournament.
With a long list of positives in need of acknowledgement, here are the 3 things that stood out the most as Canada remained undefeated, putting themselves on a trajectory for first place in Group A.
1. Byfield's Stellar Showing a Welcome Sign for Canada
After playing a fringe role with Canada at the 2020 World Juniors, Quinton Byfield's start to the 2021 tournament has been, in a word, disappointing. The Los Angeles Kings prospect has been living in Canada's bottom six and struggling to make an impact, drawing a wide range of critics in the process.
On Tuesday night, however, the entirety of Byfield's criticism seemingly evaporated, following a 6-point outburst and Player of the Game honors.
For Byfield, this was long overdue. Being one of the returnees from last year's team, there was a certain responsibility placed on his shoulders heading into Edmonton. He may not have found himself in the most extensive of roles, however, his place within Canada's bottom-six continues to be crucial in maintaining their depth and offensive reliability.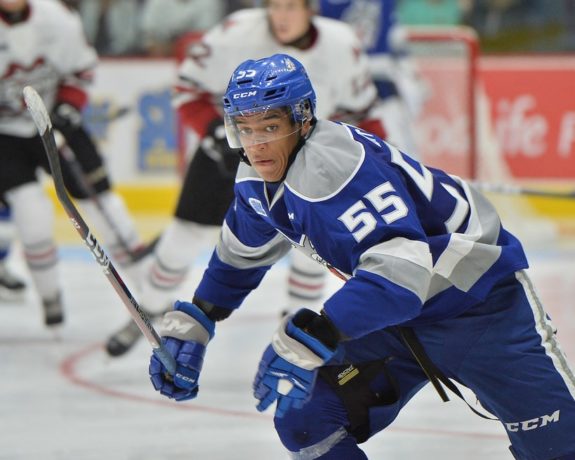 To say Byfield delivered against the Swiss would be an understatement. The Newmarket native reached an entirely different gear compared to his first two contests, taking control of just about every one of his shifts and becoming a force offensively. Centering a line with Jack Quinn and Jakob Pelletier gave Byfield two spark plugs on his flank, and the trio quickly gelled together, creating chances and spending the majority of their time in the offensive zone.
Taking advantage of a Swiss turnover, Byfield set up Philip Tomasino who netted his team-leading fourth goal in the opening minutes of the contest. Later in the second period, Byfield showed off his hands, making a nifty play at the blue line to keep the Canadians onside, with the rush eventually being finished off by Pelletier.
While dominating at even strength, Byfield also found himself on a handful of Canada's power-play opportunities. Using his big 6-foot-4 frame as Canada's net-front presence, Byfield's craftiness and creativity in tight earned him a pair of goals and played an integral role in Canada's success with the man advantage.
Earning Player of the Game honors for Canada was simply the perfect end to an unforgettable night. The 18-year old looked much more like himself on Tuesday, reigniting Canada's aggressive forecheck and distributing the puck to all quadrants of the ice. Playing to his strengths and using his size to his advantage, Byfield dominated with and without the puck and his awakening is a welcome sign for Canada as the medal round approaches.
2. Top Unit Thrives as Canada's Power Play Bounces Back
After a dismal showing on the power play against Slovakia, Canada turned the tide on Tuesday. Accompanied by their patented intensity and passing ability, one of the tournament's best power-play units worked the puck around the offensive zone, getting touches from every player on the ice.
Most notably, Connor McMichael took the reigns with the man advantage, controlling the pace of play from his perch on the left side of the ice. Cole Perfetti was a standout as well, acting as Canada's second defenseman next to Bowen Byram and getting pucks through to the net. Both connected on two cross-seam passes en route to a Dylan Cozens goal, as Canada finished 3-for-6 on the power play.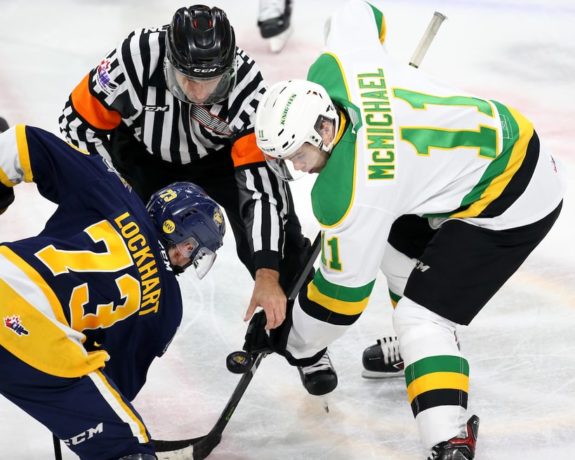 Unlike Sunday night's tilt against the Slovaks, the Canadians attacked the line with speed. Having much cleaner zone entries and calculated passes allowed Canada to sustain pressure for the majority of their power-play attack. Threading passes through open lanes and forcing the puck to the high-danger areas of the ice was a key difference compared to their power play efforts from the previous game.
On a broader scale, the Canadians executed their game plan to perfection. Utilizing a variety of players in their special teams effort, Canada's relentless forecheck and the re-establishment of their puck support strategy managed to draw a handful of penalties and generate plenty of turnovers. Including a portion of the second period, where the Swiss defenders were hemmed in their own end for an astounding 2:13, Canada never lifted their foot off the gas, resulting in a complete and well-rounded effort.
3. Canada's Bottom-Six Making the Most of Their Opportunity
Aside from Byfield, it's impossible to ignore the contributions from the rest of Canada's bottom-six. Quinn, a recent Buffalo Sabres draft pick, seemed to hit his stride alongside Byfield, escaping the perception that he's just a goalscorer. In a similar fashion, Pelletier brought his typical energy to Canada's third line, potting a pair of goals of his own and using his powerful skating to engage in offensive zone puck battles. "We played a full game" Pelletier noted during his postgame interview, a sentence that perfectly encapsulates Canada's effort against Switzerland.
The newly formed trio seemed to find some instant chemistry, as each player was struggling to start the tournament. Now, with their wheels under them, it seems as though Canada has found yet another dynamic combination at their disposal.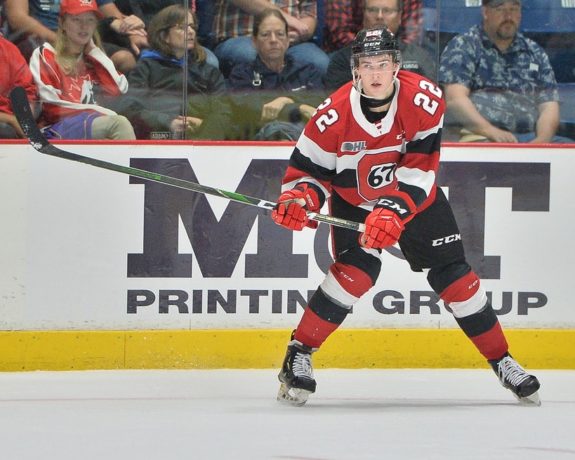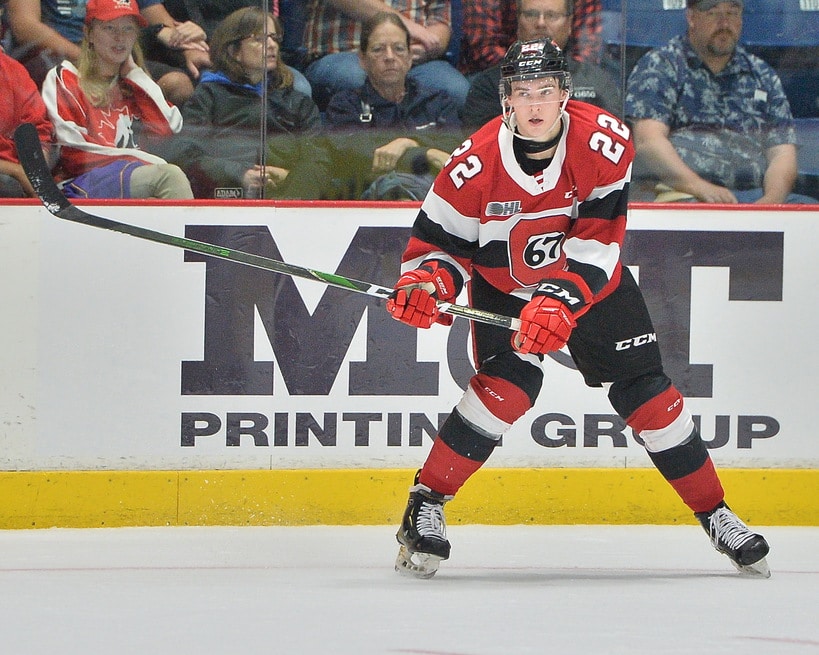 Rounding out Canada's impressive offensive effort, Dawson Mercer found himself on the fourth line for the first time in the tournament, with Connor Zary being penciled in as Canada's extra forward. Joining Ryan Suzuki and Tomasino, Canada's fourth line dominated once again in limited ice time, as both Suzuki and Tomasino found themselves on the scoresheet.
Mercer embraced a more physical presence while continuing his efforts on Canada's penalty kill. Ahead of their final round-robin game against Finland, it wouldn't surprise me if Tourigny juggled the lines once again, possibly putting Tomasino in a higher-leverage role, given his offensive tear to start the tournament.
Whichever way you look at it, Canada's thrashing over Switzerland was reassuring beyond anything else. An impressive rebuttal following a narrow victory has certainly restored confidence in Canada's offensive group and it could not have come at a better time. As Canada's opponents become more skilled in the days ahead, only time will tell to see if their efforts will carry over.
Canada Closes Out Group Action on Thursday
With another off day on Wednesday, the Canadians will await Finland on New Year's Eve. The Finns, who are also undefeated, will undoubtedly be Canada's biggest test ahead of the medal round and while Canada blanked Finland, 5-0 in the semifinals of last year's tournament, the Finns look rejuvenated this time around.
Backed by top prospects in Anton Lundell, Ville Heinola, and Roni Hirvonen, Finland matches up well against Canada, arguably going stride for stride with them in terms of roster balance and team structure.
Finland will face Slovakia on Wednesday, looking to keep their perfect record intact. If all goes according to plan, Thursday's clash against Canada will determine who finishes first in Group A.
The game on New Year's Eve is slated for 4:00 P.M. MST/6:00 P.M. EST.
All the 2021 World Junior Championship Team Information:
Austria — Team Preview — Roster
Canada — Team Preview — Roster
Czech Republic — Team Preview — Roster
Finland — Team Preview — Roster
Germany — Team Preview — Roster
Russia — Team Preview — Roster
Slovakia — Team Preview — Roster
Sweden — Team Preview — Roster
Switzerland — Team Preview — Roster
USA — Team Preview — Roster
Selection Camp Invites by NHL Team
Draft Eligible Players to Watch
One Player to Watch for Each World Junior Team
7 Predictions for the 2021 World Junior Championship
---
---