The Czech Republic has a storied history in the World Junior Championship. Legendary hockey players such as Dominik Hašek and Jaromír Jágr laced up for the team. Three Czechs are in the top 11 for all-time points in the tournament, which is tied with Sweden for the most players in this exclusive club. The Czech Republic has won two gold medals, but it has four if you include the two Czechoslovakia won. If you go with four, only Canada, Russia/Soviet Union and Finland have won more gold medals.
Related: World Junior Championship: Canada's 3 Greatest Players Ever
The golden age of Czech hockey has long since passed by. However, the Czechs should boast a competitive team in the 2021 World Juniors, and could surprise people if everything goes right. Three players in particular would need to have big tournaments if the Czechs want to win a medal.
Jan Myšák (Center)
Myšak will play a key role in any offensive success the Czechs have in the tournament. A projected first-rounder in the 2020 NHL Entry Draft, he fell to 48th overall where he was selected by the Montreal Canadiens. He's a skilled offensive player who has had success in both junior and men's leagues.
"Myšák has a knack for getting open and uses his top-end speed to outpace pressure. His footwork and straight-line skating are quite impressive, and his stride is long and clean. Myšák also displays a commanding on-ice presence and is a creative forward who can finish as well as he can set up linemates. Myšák has elite hands and a nasty shot-release combination on his wrist shot. He was a bit more active finding space in the Extraliga than he has with Hamilton, but he still knows how to create his own shot and has proven he can score on the backhand with regularity."

Steve Kournianos, The Draft Analyst
While playing in the top men's Czech league, Extraliga, Myšák posted nine points in 26 games in 2019-20; leading all junior players in points. Midway through the season, he decided to play in the OHL, where he quickly adjusted to the North American ice surface, putting up 15 goals and 25 points in 22 games played.
Myšák is penciled in as the Czech Republic's top center. He has great hands and speed, along with a nasty shot. He demonstrated with Hamilton that he can be a point-per-game player at the junior level, and he excelled in the Czech Republic's top men's league. All of these attributes mean he should be one of, if not the best forward for the Czechs in the tournament, and that much of the team's offensive success will be from how well he plays.
Stanislav Svozil (Defenceman)
17-year-old Svozil is poised to lead the Czech Republic's blue line. He's set to be a first-round pick in the 2021 NHL Entry Draft, and some are already labeling him a top -10 pick.
This clip highlights a large part of Svozil's game. He fits the mold of the modern defenceman. He is a speedy player with great hands, along with possessing amazing vision and fantastic passing ability. Despite only being 17 years of age, he has already had vast success in men's leagues. He entered the Extraliga league last season as a 16-year-old and was the youngest player in the league. However, he didn't just play; he blew away expectations.
Related: 2021 World Junior Championship Team Czech Republic Preview
He played in 41 games, a terrific total for a 16-year-old. Svozil scored two goals and added three assists for five points. Subsequently, due to his play, he took home the league's Rookie of the Year award. Considering that he was by far the youngest player in the league and was competing against some of the best players in Eastern Europe, this is quite an achievement.
Svozil has already succeeded in International Play. At the 2019 U-17 World Hockey Challenge he posted four points in six games played. He also appeared as an underage player in the 2019 U-18 Hlinka Gretzky Cup. Svozil will want to perform to both help his country try to win a medal and to up his stock heading into the 2021 NHL Entry Draft. Be sure to keep an eye on him, as he has the potential to turn heads.
Jaromir Pytlik (Center/Winger)
19-year-old Pytlik is a veteran on the Czech Republic's roster. He played in last year's tournament, where he potted one apple in five games played. He is a versatile two-way forward, who can play as either a center or winger. He also has size, as he stands at 6-foot-3, which has proven to be a game-changer before. In fact, Czech forward Vladimir Ruzicka also stood at 6-foot-3 and is sixth all-time in points at the tournament.
"Pytlik is a very intelligent player and one of the most complete players in his draft class. His attention to detail on defence is as important to him as offence. The coaching staff can trust him with big defensive responsibilities and is usually the first player over the boards in the last minute whether down a goal or up a goal. He can kill penalties and is a threat offensively on the PK. Pytlik can play both center and wing, which is something NHL scouts covet, but he'll need to put some work in on the dot. On the wing I would like him to add another gear to his speed. It's also an area he has shown some improvement on over a year ago and there is nothing to suggest he won't continue to put in the necessary work. Fans either like him because of his physical, power game or don't because he isn't a flashy bring them out of their seats kind of player. But scouts do because of his all-around complete game. The tool box is full but some of the tools need some sharpening. My money is on him eventually putting it all together."

Dominic Tiano
Pytlik will be a staple on both the Czechs' top powerplay and penalty kill units. He'll definitely crack the team's top six, but depending on what position they have him play, the line he's on may change. If he plays on the wing, he'd definitely be a first liner. However, if he plays center he'd be playing behind Myšák, which would be a great one-two punch. Either way, he'll see tons of playing time and will be vital to the team's efforts both offensively and defensively.
Medal Hopes
Despite having these three talents, it will be a struggle for the Czechs to win their first medal since 2005. They are boasting (on paper) a less skilled team than last year, but should make it out of the round-robin, as it's unlikely that Marco Rossi will be able to will Austria to a top-four finish ahead of the Czechs in Group B. Once it comes down to the playoff round, you never know what could happen.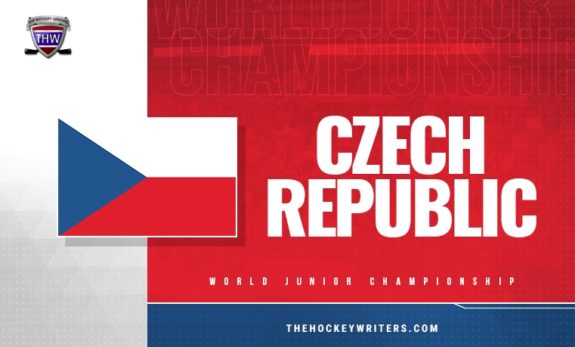 Last year they upset Russia in the round robin; perhaps they could pull off another one in the playoff round this time around. Although it's unlikely the Czech Republic will break their medal drought, if they do it will largely be due to Pytlik, Svozil and Myšák.
All the 2021 World Junior Championship Team Information:
Austria — Team Preview — Roster
Canada — Team Preview — Roster
Czech Republic — Team Preview — Roster
Finland — Team Preview — Roster
Germany — Team Preview — Roster
Russia — Team Preview — Roster
Slovakia — Team Preview — Roster
Sweden — Team Preview — Roster
Switzerland — Team Preview — Roster
USA — Team Preview — Roster
Selection Camp Invites by NHL Team
Draft Eligible Players to Watch
One Player to Watch for Each World Junior Team
7 Predictions for the 2021 World Junior Championship
---
---