Last year, all eyes were on Alexis Lafreniere during the World Junior Championship. And he didn't disappoint one bit. Despite missing some time with a leg injury, he was able to come back and finish the tournament with 10 points in five games and the MVP award. While he isn't around this year, there are definitely a lot of noteworthy names that fans should keep an eye on for Canada.
With a roster that has a lot of high-end talent up front and on the back end, there are many players that can be highlighted, including returnees. Jamie Drysdale, Connor McMichael, Dawson Mercer, Peyton Krebs, Justin Barron and many other players could be on this list. To keep it short, here are five players to watch for Canada as they start their journey to repeat as champions.
Kirby Dach
It's always great to have NHL experience in the lineup. Barrett Hayton was what Canada needed last year, recording six goals and six assists. Canada got a boost when the Chicago Blackhawks loaned Kirby Dach. He's shaping up to be another great late addition from the pro level to make a significant impact as captain for Canada. 
After a year of pro experience recording 23 points, the Blackhawks were willing to let Dach participate, as he'll have a roster spot when he returns from the tournament. As camp wound down, it became evident that Dach is going to be a major offensive contributor for Canada as he'll lead the top forward unit. 
Dach has already seen a revolving door of linemates during camp. But no matter who is playing with him, Dach's line is going to dominate. Dach saw instant chemistry with Connor Zary and Phil Tomasino before Canada went into quarantine, and he played extremely well with Dylan Cozens and Connor McMichael in a scrimmage after they were cleared to resume camp. When the roster was announced, Cozens was the centre while Jack Quinn was the other winger. If any of those line combinations were to happen, Dach will be making a major impact, either as a centre or winger. 
Dach's experience, high-end skill set and creativity to create plays are going to be on full display when the tournament starts. Teams are going to have their hands full when his line is on at even-strength or on the power play, as he'll be another weapon at the team's disposal.
Bowen Byram
In 2018, 2017 Colorado Avalanche fourth overall pick Cale Makar made a major impact for Canada, finishing the tournament in the top 10 in scoring with eight points. This time around, it's another top Avalanche defensive prospect that's in a position to be one of the dominant defensemen in this year's tournament. 
One of two returning players on the blueline, Byram is sure to be an integral part of Canada's success. He only registered two assists in last year's tournament, but he's sure to get more opportunities on the top line with Drysdale as his partner. If the camp and scrimmages are any indication, Byram is destined to be one of the tournament's top players. 
Byram had 52 points with the Vancouver Giants last season before it was brought to a halt. He hasn't been seeing much ice time and even with a delayed WHL season, it hasn't affected Byram's on-ice performance when camp opened, as he was an instant standout.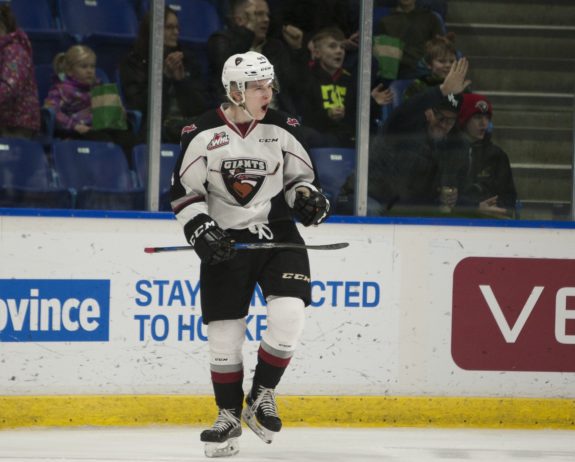 From the start, his skating was extraordinary. He was flying with ease and was very difficult to contain in the offensive zone. He had great vision to spot his teammates as well as getting great quality scoring chances. He had great control of the puck and when this pairing was on the ice, Byram's line was always in the offensive zone with him being the catalyst on the ice. He ended up with four points by the end of camp. 

While he's expected to be a big-time producer this year, Byram is also projected to take on more responsibility as one of the leaders on the team, serving as an alternate captain. Whether that happens or not, his presence and ability to take charge is a big reason why he's about to have a very strong tournament.
Dylan Cozens
Speaking of Dach's potential linemate, Cozens is another player that's expected to be of major significance this year. The Lethbridge Hurricanes captain registered 85 points last season while also tallying seven assists and nine points in seven games on last year's gold medal team. 
Cozens, drafted seventh overall by the Buffalo Sabres in 2019, is a complete package centreman with strength and a competitive edge. He's very reliable defensively, but also has a great burst of speed to join or lead the rush into the offensive zone. He never gives up on a play as he is always engaged in puck battles and forcing turnovers.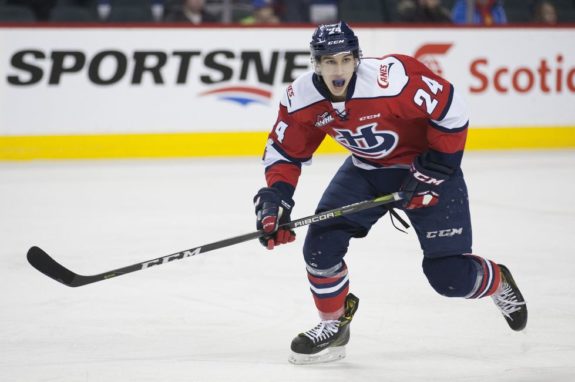 He was a key factor for Canada, especially against Russia in the gold medal game last year. Cozens got Canada on the board, scoring to tie the game 1-1 in the second period after Nikita Alexandrov scored the game's first goal. Cozens was able to provide a big-time play for Canada when they needed it the most and he'll look to do the same this time around. 
While he served within the top-six for Canada last year, his role is going to be even more magnified as the team's top centre this year. Like Dach and Byram, he's definitely going to be relied upon with his ability to lead by example on and off the ice. "Wearing a letter for Team Canada on a stage like the World Juniors is an honour that not many people get to experience so it'd be unbelievable for me," Cozens said in an interview with TSN's Mark Masters.
Cozens is primed to help Canada repeat, and his play is going to vault them into a position for success. 
Quinton Byfield
Byfield was one of five players that were eligible for the draft who made the team last year. While he was being used in a bottom-six role and had minimal ice time, Byfield was far from his usual self.
It definitely wasn't the performance that Byfield wanted. He only registered one assist in seven games as the 13th forward, averaging just less than nine minutes a game. This time, things are different and Byfield is motivated to be a major contributor this year. Call it nerves or not getting a fair opportunity, but it didn't hinder the rest of his draft year as he finished with 82 points and was selected second overall by the Los Angeles Kings in the 2020 NHL Draft.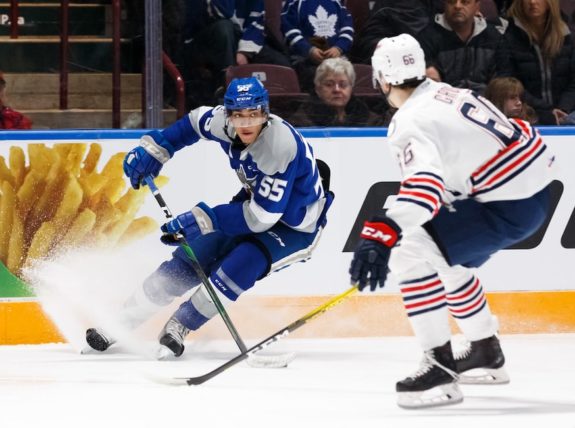 Byfield has seemed to have some early chemistry with Tomasino as both players play the game at a high pace and can be dynamic offensive players. Even though it was selection camp, there is a major difference in Byfield's game in preparing for the tournament. He was utilizing his big frame along the boards, protecting the puck and pushing his way to the high danger area for a shot on net. His speed was on another level and his aggressive competitive side was on display.
There's no doubt that Byfield would've liked a better tournament in 2020. This time around, fans alike will get to see why he was taken second overall in the draft.
Dylan Garand
Every tournament, there's always a focus on the goaltending position for Canada. They've had difficulty to find tournament performances like Carey Price or Carter Hart. Last year, Nico Daws was the starter but was easily replaced by Joel Hofer as he was the one to help propel Canada to a gold medal. At this point, all three goaltenders – Garand, Taylor Gauthier and Devon Levi – all have cases to be the starter for Canada. 
Levi and Gauthier could definitely fight for that spot, but during the intra-squad games, Garand looked more composed and focused in the crease. The New York Rangers fourth-round pick in 2020, Garand posted a .921 save percentage and 2.21 goals against average last season with the Blazers, while also earning a silver medal at the Hlinka-Gretzky Cup.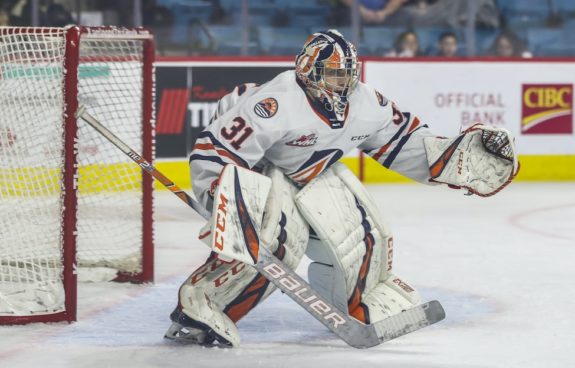 Even though he only played for half a game, Garand faced a lot of great scoring chances in the first intra-squad game. He stood tall while facing an early barrage of shots, but didn't buckle under pressure. While that's always a major factor for a goaltender, Garand isn't intimidated by it and sees it as a privilege.
While it's too early to decide, Garand is viewed as the potential starter for Canada. Should Garand not perform as well as he did in camp, Gauthier (undrafted) and Levi (Florida Panthers seventh-round pick in 2020) are very capable of handling the starter role. They had strong numbers last season and have had success for Canada internationally. They have the poise and calmness to be there when the team needs them to be the last line of defense. 
With the amount of talent and depth this team has, there are plenty of other players that can be added to this list. Team Canada's veteran presence and goaltending are going to be critical on their quest to repeat as gold medalists.
---
All the 2021 World Junior Championship Team Information:
Austria — Team Preview — Roster
Canada — Team Preview — Roster
Czech Republic — Team Preview — Roster
Finland — Team Preview — Roster
Germany — Team Preview — Roster
Russia — Team Preview — Roster
Slovakia — Team Preview — Roster
Sweden — Team Preview — Roster
Switzerland — Team Preview — Roster
USA — Team Preview — Roster
Selection Camp Invites by NHL Team
Draft Eligible Players to Watch
One Player to Watch for Each World Junior Team
7 Predictions for the 2021 World Junior Championship
---
---