| | | | |
| --- | --- | --- | --- |
| Born: | Dec 8, 1939 | Draft: | Undrafted |
| Hometown: | Regina, Saskatchewan | Position: | Centre |
| Known For: | 1965 Stanley Cup Champion | Shoots: | Left |
| National Team: | Canada | Current Status: | Retired |
Red Berenson (born December 8, 1939) is a retired Canadian ice hockey player, having played his final year in the NHL with the St. Louis Blues during the 1977-78 season. After leading the NCAA in goals with 43 as a member of the University of Michigan, Berenson was signed by the Montreal Canadiens and appeared in four games during the 1960-61 season. After five seasons with the Canadiens, mostly split between the NHL and their minor-league affiliates, and one Stanley Cup win in 1965, he was traded to the New York Rangers for Garry Peters and Ted Taylor.
Berenson's time with the Rangers was short-lived, appearing in 49 games over two seasons and registering eight points during that span. He was dealt to the Blues, along with Barclay Plager, in exchange for Ron Attwell and Ron Stewart. He saw immediate success with the Blues, helping them to three consecutive Stanley Cup Final appearances, and hitting the 30-goal plateau twice. He also became the first player in NHL history to score a double hat trick in a road game, doing so against the Philadelphia Flyers in 1968. Berenson was named an alternate captain for two seasons before being promoted to captain of the Blues for the 1970-71 season. He was traded midseason to the Detroit Red Wings, along with Tim Ecclestone, in exchange for Wayne Connelly and Garry Unger.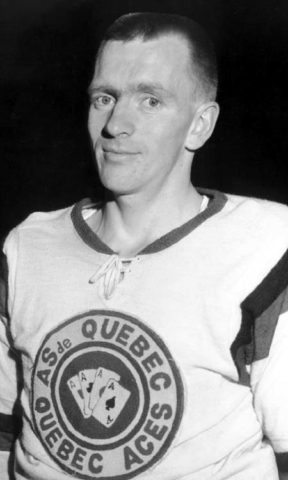 Berenson played in three full seasons with Detroit, reach the 20-goal plateau twice and earning the captaincy for the 1973-74 season. Unfortunately, the Red Wings missed the playoffs in each season Berenson was a member, and after a slow start to the 1974-75 season, the Red Wings traded Berenson back to the Blues for Phil Roberto and a 1975 3rd-round pick. He played in three more seasons with the Blues before announcing his retirement at the conclusion of the 1977-78 season. He represented Canada at the 1959 World Cup, as well as the 1972 Summit Series, combining for 14 points in ten games.
Red Berenson Statistics
Deeper Dive
Staff History
St. Louis Blues (Assistant Coach) 1978-1980
St. Louis Blues (Head Coach) 1980-1982
Team Canada, Canada Cup (Assistant Coach) 1982
Team Canada, World Cup (Assistant Coach) 1982
Buffalo Sabres (Assistant Coach) 1982-1984
University of Michigan, NCAA (Head Coach) 1984-2017
Achievements
World Championship Most Goals (9) (1959)
2x NCAA (WCHA) First All-Star Team (1961, 1962)
2x NCAA (West) First All-American Team (1961, 1962)
NCAA (Championship) All-Tournament Team (1962)
NCAA (WCHA) Player of the Year (1962)
6x NHL All-Star Game (1965, 1969, 1970, 1971, 1972, 1974)
NHL Most Game Winning Goals (8) (1970)
NHL Stanley Cup Champion (1965)
NHL Contribution to U.S. Hockey (Lester Patrick Trophy) (2006)
NHL Coach of the Year (Jack Adams Award) (STL) (1981)
Canada Cup Runner-Up (Asst. Coach) (1982)
World Championship Bronze Medal (1982)
2x NCAA (CCHA) Coach of the Year (1994, 2008)
NCAA (Overall) Coach of the Year (Spencer Penrose Trophy) (2008)
NCAA (B1G) Champion (2016)
NCAA (B1G) Coach of the Year (2016)
United States Hockey Hall of Fame | Builder (2019)
Sources