They've been described by head coach Andre Tourigny as a three-headed leadership monster. Team Canada made it official on Friday, naming their leadership group for the 2021 World Junior Championship which features three Western Hockey League standouts.
Former Saskatoon Blades' centreman Kirby Dach will be Canada's captain at the 2021 WJC in Edmonton with Vancouver Giants' defenseman Bowen Byram and Lethbridge Hurricanes' captain Dylan Cozens serving as alternates. The trio got the news from 2015 Canadian gold medalist Connor McDavid, who delivered a message that was played on the video screen at Rogers Place in Edmonton at the conclusion of Friday's practice.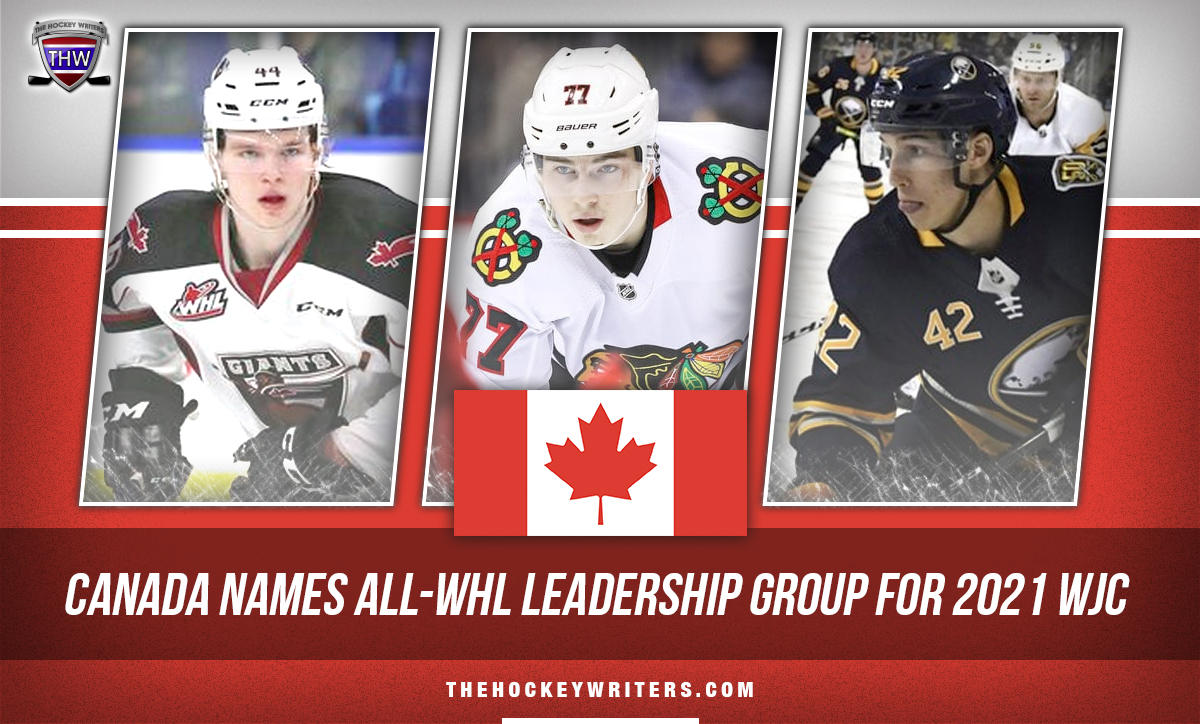 Dach, a veteran of a full NHL season with the Chicago Blackhawks, will be making his first and only WJC appearance. Byram and Cozens are two of Canada's six returning players from their 2020 gold medal win in the Czech Republic.
"These three players are all leaders in their own right who have the respect of their teammates," said Canadian head coach Andre Tourigny in a statement from Hockey Canada. "Kirby has set a standard for himself through his commitment and determination, which is a great example for the others on our team. He has a strong desire to represent his country. Bowen and Dylan are veterans who know what it takes to win at this tournament, and their voices will be important in our leadership group."
An already strong showing by the WHL gets even more impressive with the announcement of Canada's leadership group. The three players tabbed to wear letters represent one-third of the nine WHL representatives on Canada's 25-player roster, which is their largest contingent since 2015. 
Captain – Kirby Dach
Much has been written about Dach, picked by Chicago third overall pick in the 2019 NHL Draft.  After posting eight goals and 23 points in 64 regular-season games in his rookie season, he came into his own during the postseason. The power forward collected a goal and six points in nine playoff games, which tied for fourth on the team, and in the process, became the first Blackhawk to record a point in his first three playoff games since Eddie Olczyk in 1985.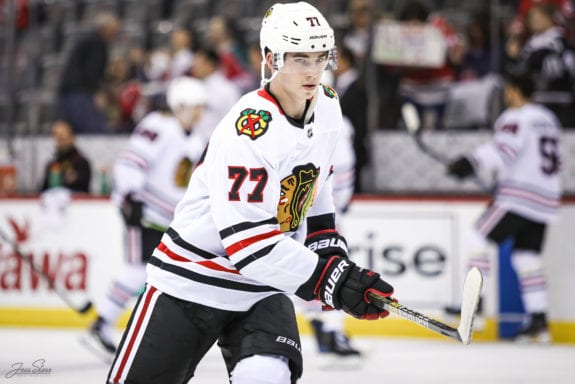 It has been a roller coaster couple of months for the third overall pick of Chicago in 2019.  Dach was initially loaned to Canada's selection camp at the end of October on a conditional basis that he would return to the Blackhawks if the beginning of the 2020-21 NHL season were to conflict with the WJC.  He was then named to Canada's final roster on December 11th as the NHL struggled to finalize plans for their new season. 
"Obviously, it's a huge honor to wear the 'C' for any team you play on, and especially for the Canadian national junior team," Dach told NHL.com. "I'm going to wear it with pride. I know there's a lot of leaders in the dressing room that'll help me out along the way. I think we're all just looking forward to getting the tournament started, and this is just one step along the process."
The fact that Canada went ahead and named the product of Fort Saskatchewan, AB their captain for the tournament suggested that NHL training camps would not get underway until after the scheduled January 5th conclusion of the WJC.  However, just hours after Dach was named 'Captain Canada,' reports of a tentative deal between the NHL and NHLPA for the 2020-21 season began to circulate. Under the reported terms, all NHL training camps would begin no later than January 3rd, meaning that Dach would arrive late to Chicago if Canada advances to the medal round at the WJC.
The upcoming WJC will be a reunion of sorts for Dach and Canadian assistant coach Mitch Love, who returns for his second tour of duty. Dach broke out while playing under Love during his 2018-19 draft season with the Blades, registering 25 goals and 73 points before adding five goals and eight points in the playoffs. Saskatoon ended their five-season postseason drought in Love's freshman campaign as head coach.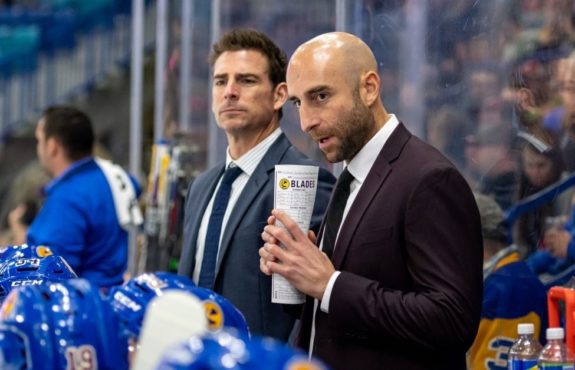 Dach has previous international experience at the 2018 World Under-17 Hockey Challenge, where he logged a goal and seven points in five games, and at the 2019 Hlinka Gretzky Cup, where he scored a pair of goals with seven points in five games.
Alternates
Bowen Byram
Already a key component of the Canadian defense in 2020, Byram will look to take another step in Edmonton and become a difference-maker from the back end.
The fourth overall pick by the Colorado Avalanche in the 2019 NHL Draft, Byram has three full WHL seasons under his belt with the Vancouver Giants where he has served as an alternate captain for two seasons.  During his draft season in 2018-19, the native of Cranbrook, BC led WHL defensemen in goals (26) and finished third in points (71). He continued it to the playoffs where he registered eight goals and 26 points, leading the Giants into overtime of game seven in the Ed Chynoweth Cup Final against the Prince Albert Raiders.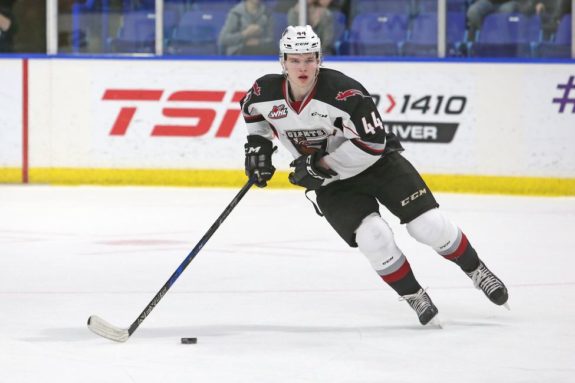 Byram's numbers in the WHL tapered off slightly last season with 14 goals and 52 points, which still represented a pace better than a point-per-game. At his first WJC experience, Byram provided solid defense and chipped in a pair of assists in Canada's seven games.
One of the six returnees from the 2020 squad, Byram will now be looked upon to provide leadership while once again locking down the defensive zone in front of Canada's goaltenders.  On a team loaded with 20 first-round NHL draft picks, including Dach who has a full season of NHL experience, Byram will be looking to move the puck quickly up to the forwards to set up the Canadian attack. 
"Growing up watching the tournament, you always looked up to the leaders on the team and now to be one of those guys is something I'll remember forever," Byram said to TSN.
This will be Byram's fourth international tournament, and his first time wearing a letter. He previously competed in the 2018 World Under-17 Hockey Challenge and Hlinka Gretzky Cup.
Dylan Cozens
Lethbridge Hurricanes' captain Cozens will wear a letter in his second WJC with Canada.
The Buffalo Sabres' first pick in 2019, seventh overall, thrived as a playmaker at the 2020 WJC, tying the team lead with seven assists and tied for third in Canadian scoring with nine points.  This time around, he is likely to drive a dynamic top line with Dach. Cozens has been centering the top line in practice as recently as Saturday, with Dach on his right and fellow Sabres' prospect Jack Quinn of the Ottawa 67s on left wing.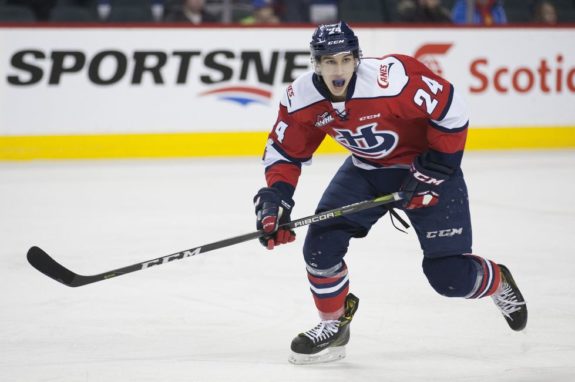 The product of Whitehorse, YT has been a points machine for Lethbridge throughout his three WHL campaigns, totaling 95 goals and 222 points in 179 contests. Cozens led all WHL rookies with 22 goals in 2017-18 and was the league's Rookie of the Year on the strength of 53 points. The following season, his draft campaign Cozens put up 34 goals and 84 points and improved on that with 38 goals and 85 points in 17 fewer games last season. He is no stranger to big games with 14 WHL playoff goals and 29 points in 35 postseason games.
TSN's director of scouting Craig Button calls Cozens a "catalyst" and "soul of the team" for this version of Team Canada.
Before his two WJC appearances Cozens recorded seven points at the 2018 World Under-17 Hockey Challenge and wore an 'A' and netted four goals with nine points in the 2019 Hlinka Gretzky Cup, leading Canada to a gold medal.
First Time
Per EliteProspects, 2021 is the first time that Canada's entire leadership group has come from the WHL. The only other time that the WHL was the only league represented in the Canadian captaincy was 1988 in Moscow, USSR when Theo Fleury, then of the Moose Jaw Warriors, wore the 'C' with no alternates.
Canada finished with six wins and a tie in 1988, good enough to edge out the host nation by a single point for the gold medal in the round-robin format. That particular WJC win brought redemption for the Canadians, after they and the USSR were disqualified in 1987 as a result of the infamous 'Punch-Up in Piestany.'
The Fleury-led 1988 squad featured big names like future Hockey Hall of Famers Joe Sakic and Mark Recchi, as well as future Vancouver Canucks' icon Trevor Linden.
Days Away
Canada's pursuit of their 19th WJC gold medal begins on Boxing Day when they square off against Germany. The stiffest test of the preliminary round is expected to come against Finland on New Year's Eve. The Finnish side will be seeking a measure of revenge after their 2020 WJC ended with a quarterfinal loss to Canada.
All the 2021 World Junior Championship Team Information:
Austria — Team Preview — Roster
Canada — Team Preview — Roster
Czech Republic — Team Preview — Roster
Finland — Team Preview — Roster
Germany — Team Preview — Roster
Russia — Team Preview — Roster
Slovakia — Team Preview — Roster
Sweden — Team Preview — Roster
Switzerland — Team Preview — Roster
USA — Team Preview — Roster
Selection Camp Invites by NHL Team
Draft Eligible Players to Watch
One Player to Watch for Each World Junior Team
7 Predictions for the 2021 World Junior Championship
---
---