Born:
Mar 11, 1943
Hometown:
Detroit, Michigan
National Team:
United States
Current Status:
Carolina Hurricanes
(Former Owner)
Known For:
Stanley Cup Champion
Peter Karmanos Jr. (born March 11, 1943) was raised in Detroit in a Greek household, the oldest of three siblings, in a family that owned a small restaurant. A savvy businessman in his early days, Karmanos and two partners created Compuware, a software company. In his time with the founded business, he served as CEO, an executive chairman, and later on a consultant. His adventures with the business transitioned into the world of hockey, where he and fellow partner Thomas Thewes co-founded a hockey program in Detroit. When the Ontario Hockey League expanded, Karmanos and Thewes earned a franchise for Detroit, which they gave the name the Windsor Compuware Spitfires.
With the team undergoing several re-brands, from the Detroit Junior Red Wings to the Detroit Whalers, to the eventual relocation to Plymouth and renaming to the Plymouth Whalers, Karmanos sold the team to the Flint's Perani Arena and Event Center, while selling Plymouth Arena to USA Hockey. In 1994, he purchased the Hartford Whalers for $47.5 million, committing to remaining in the city of Hartford for the next four years, however when the team sold under 11,000 tickets, Karmanos expressed concern that if it didn't sell 11,000 tickets the following season, the team would have to move. Despite surpassing that minimum, he elected to relocate the team anyway, moving to Carolina and re-branding as the Carolina Hurricanes.
His contributions and decision-making led to the Hurricanes becoming a Cinderalla story in 2006, as the team captured its first and only Stanley Cup in franchise history. Karmanos remained on board as a franchise owner for 27 years, eventually selling off the last of his shares to current owner Tim Dundon. He is a member of both the Hockey Hall of Fame and the United States Hockey Hall of Fame.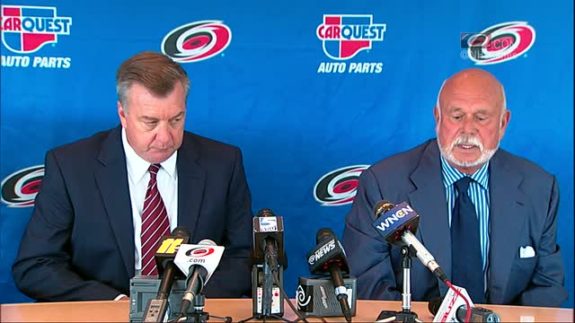 Deeper Dive
Staff History
Windsor Compuware Spitfires, OHL (Franchise Owner) 1984-1989
Plymouth Whalers, OHL (Franchise Owner) 1990-2015
Hartford Whalers/Carolina Hurricanes (Franchise Owner) 1994-2021
Hartford Whalers/Carolina Hurricanes (CEO) 1994-2018
Florida Everblades (Franchise Owner) 1998-2018
Florida Everblades (CEO) 1998-2018
Achievements
2X OHL Champion (1988, 2007)
NHL Contribution to U.S. Hockey (Lester Patrick Trophy) (1998)
NHL Stanley Cup Champion (2006)
OHL Distinguished Service (The Bill Long Award) (2010)
ECHL Kelly Cup Champion (2012)
United States Hockey Hall of Fame | Builder (2014)
Hockey Hall of Fame | Builder (2016)
ECHL Brabham Cup (Regular Season Champion) (2018)
Sources