| | | | |
| --- | --- | --- | --- |
| Born: | Aug 15, 1963 | Draft: | Undrafted |
| Hometown: | Nelson, British Columbia | Position: | Left Wing |
| Known For: | World Championship Bronze Medal | Shoots: | Left |
| National Team: | Canada | Current Status: | Retired |
Greg Adams (born August 15, 1963) is a former Canadian ice hockey player, having played his final year in the NHL with the Florida Panthers during the 2000-2001 season. Undrafted at the NHL level, Adams earned a reputation as a prolific scorer during his two-year stint with Northern Arizona University of the National Collegiate Athletic Association (NCAA). His efforts earned him a contract with the New Jersey Devils, and he made his debut in the 1984-85 season. Splitting the year with the Devils and their minor-league affiliate, he registered 12 goals and 21 points in 36 games, and instantly showcased his competitive nature.
Adams earned a full-time spot in New Jersey the following season and amassed 35 goals and 77 points in 78 games. His contributions earned him a spot on Team Canada's roster at the 1986 World Championship, but his offense dropped off the following year. The Devils traded Adams prior to the 1987-88 season, sending him to the Vancouver Canucks in a package deal. He gelled well with the Canucks in his first season, returning to form with a 76-point season in 80 games. Unfortunately, his offense once again dropped off in each of his eight years in Vancouver, leading up to the organization trading him to the Dallas Stars for Russ Courtnall.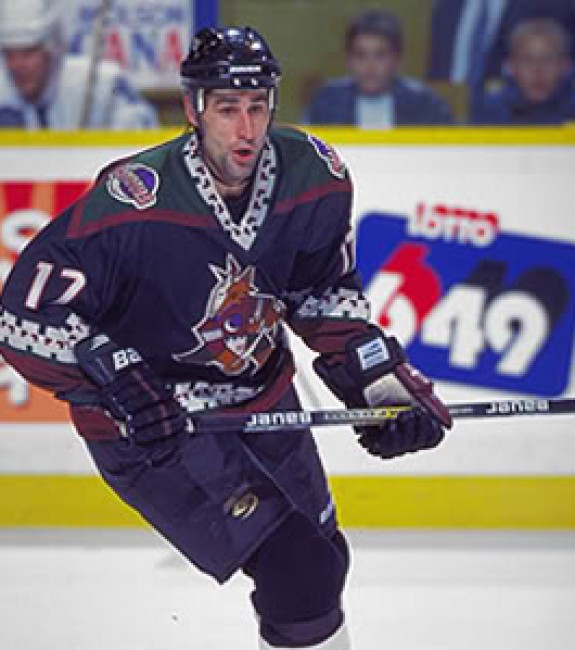 Adams became a serviceable player for the Stars in his three seasons with the team, registering one 40-point season before signing with Arizona Coyotes in 1998-99. He once again amassed two 40-point seasons in the desert, and finished off his NHL run with the Panthers in 2000-01. After not receiving a contract for the following season, Adams did not play in the 2001-02 season but returned to play one more year in Germany for the Frankfurt Lions. Adams announced his retirement in 2003.
Greg Adams Statistics
Deeper Dive
Staff History
Tampa Bay Lightning (Scout) 2008-2009
Achievements
World Championship Bronze Medal (1986)
Sources