The Presidents' Trophy (French: Trophée des présidents) is an award presented by the National Hockey League (NHL) to the team that finishes with the most points (i.e. best record) during the NHL regular season. If two teams are tied for the most points, then the Trophy goes to the team with the most regulation wins (RW). The Presidents' Trophy has been awarded 35 times to 18 different teams since its inception during the 1985–86 NHL season.
As the team with the best regular-season record, the Presidents' Trophy winner is normally guaranteed home-ice advantage throughout the entire Stanley Cup playoffs. However, it does not guarantee playoff success, as the winner of the Presidents' Trophy has won the Stanley Cup only eight times. Three other teams reached the Stanley Cup Finals but failed to win. The most recent team to win both the Presidents' Trophy and the Stanley Cup in the same season were the 2012–13 Chicago Blackhawks. The only team to accomplish this more than once is the Detroit Red Wings.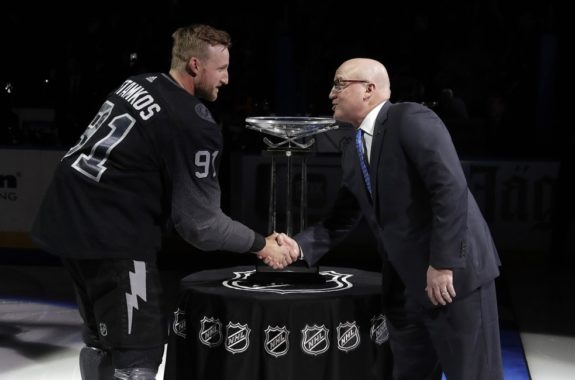 Which Team Has Won the Most Presidents' Trophies?
Since the trophy was first awarded in 1986 to the Edmonton Oilers, the Detroit Red Wings have accumulated the most wins with six.
Does Winning the Presidents' Trophy Guarantee a Stanley Cup?
In short, no. There have been only eight teams in 35 seasons to win both the Presidents' Trophy and Stanley Cup. The most recent was the Blackhawks in 2013.
Presidents' Trophy Winners
| Year | Winner | Points | Win # | Playoff Result |
| --- | --- | --- | --- | --- |
| 1985–86 | Edmonton Oilers | 119 | 1 | Lost Division Finals (CGY) |
| 1986–87 | Edmonton Oilers | 106 | 2 | Won Stanley Cup |
| 1987–88 | Calgary Flames | 105 | 1 | Lost Division Finals (EDM) |
| 1988–89 | Calgary Flames | 117 | 2 | Won Stanley Cup |
| 1989–90 | Boston Bruins | 101 | 1 | Lost Stanley Cup Finals (EDM) |
| 1990–91 | Chicago Blackhawks | 106 | 1 | Lost Division Semifinals (MNS) |
| 1991–92 | New York Rangers | 105 | 1 | Lost Division Finals (PIT) |
| 1992–93 | Pittsburgh Penguins | 119 | 1 | Lost Division Finals (NYI) |
| 1993–94 | New York Rangers | 112 | 2 | Won Stanley Cup |
| 1994–95 | Detroit Red Wings | 70 | 1 | Lost Stanley Cup Finals (NJD) |
| 1995–96 | Detroit Red Wings | 131 | 2 | Lost Conference Finals (COL) |
| 1996–97 | Colorado Avalanche | 107 | 1 | Lost Conference Finals (DET) |
| 1997–98 | Dallas Stars | 109 | 1 | Lost Conference Finals (DET) |
| 1998–99 | Dallas Stars | 114 | 2 | Won Stanley Cup |
| 1999–2000 | St. Louis Blues | 114 | 1 | Lost Conference Quarterfinals (SJS) |
| 2000–01 | Colorado Avalanche | 118 | 2 | Won Stanley Cup |
| 2001–02 | Detroit Red Wings | 116 | 3 | Won Stanley Cup |
| 2002–03 | Ottawa Senators | 113 | 1 | Lost Conference Finals (NJD) |
| 2003–04 | Detroit Red Wings | 109 | 4 | Lost Conference Semifinals (CGY) |
| 2004–05 | Lockout – Not Awarded | – | – | – |
| 2005–06 | Detroit Red Wings | 124 | 5 | Lost Conference Quarterfinals (EDM) |
| 2006–07 | Buffalo Sabres | 113 | 1 | Lost Conference Finals (OTT) |
| 2007–08 | Detroit Red Wings | 115 | 6 | Won Stanley Cup |
| 2008–09 | San Jose Sharks | 117 | 1 | Lost Conference Quarterfinals (ANA) |
| 2009–10 | Washington Capitals | 121 | 1 | Lost Conference Quarterfinals (MTL) |
| 2010–11 | Vancouver Canucks | 117 | 1 | Lost Stanley Cup Finals (BOS) |
| 2011–12 | Vancouver Canucks | 111 | 2 | Lost Conference Quarterfinals (LAK) |
| 2012–13 | Chicago Blackhawks | 77 | 2 | Won Stanley Cup |
| 2013–14 | Boston Bruins | 117 | 2 | Lost Second Round (MTL) |
| 2014–15 | New York Rangers | 113 | 3 | Lost Conference Finals (TBL) |
| 2015–16 | Washington Capitals | 120 | 2 | Lost Second Round (PIT) |
| 2016–17 | Washington Capitals | 118 | 3 | Lost Second Round (PIT) |
| 2017–18 | Nashville Predators | 117 | 1 | Lost Second Round (WPG) |
| 2018–19 | Tampa Bay Lightning | 128 | 1 | Lost First Round (CBJ) |
| 2019–20 | Boston Bruins | 100 | 3 | Lost Second Round (TBL) |
| 2020–21 | Colorado Avalanche | 82 | 3 | Lost Second Round (VGK) |
| 2021–22 | Florida Panthers | 122 | 1 | Lost Second Round (TBL) |
| 2022–23 | Boston Bruins | 135 | 4 | Lost First Round (FLA) |
Sources