| | | | |
| --- | --- | --- | --- |
| Born: | Apr 10, 1980 | Draft: | Undrafted |
| Hometown: | North York, Ontario | Position: | Left Wing |
| Known For: | 2x NHL Most Penalized Player (2004, 2006) | Shoots: | Left |
| National Team: | Canada | Current Status: | Retired |
Sean Avery (born April 10, 1980) is a retired Canadian ice hockey player, having played his final year in the NHL with the New York Rangers during the 2011-12 season. Undrafted at the NHL level, Avery broke into the league during the 2001-02 season, splitting time with the Detroit Red Wings and the American Hockey League's Cincinnati Mighty Ducks. During the 2002-03 season, Avery was traded to the Los Angeles Kings in a package deal that saw Mathieu Schneider head the other way. Avery spent two full seasons with the Kings and would be traded to the Rangers during the 2006-07 season. His first stint with the Rangers lasted just one season, and Avery signed with the Dallas Stars for the 2008-09 season. Avery would be traded later that season, returning to the Rangers. His 10-year career in the NHL would conclude as a member of the Rangers, spending the final three seasons in the Big Apple. Avery still remains a resident of New York to this day.
Notorious around the league for being one of the biggest pests of the 2000s, Avery's antics peaked during the 2008 playoffs. During a Rangers power play, Avery took to his usual post in front of the net, only this time he took an unusual strategy by standing face-to-face with Martin Brodeur. Waving his stick and gloves in front of Brodeur, the play would later result in the NHL constructing a new rule to disallow this type of play. To make matters worse, Avery would eventually score during this shift.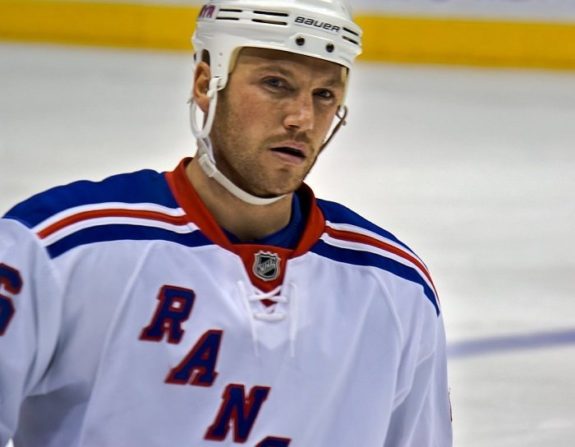 Sean Avery Statistics
Trade Tracker
Date
Traded From
Traded With
Traded To
Traded For
Mar. 11, 2003
First-Round Pick 2003
(Jeff Tambellini)
Maxim Kuznetsov
Second-Round 2004
Mathieu Schneider
Feb. 5, 2007
John Seymour
Jason Ward
Jan Marek
Marc-Andre Cliche
Deeper Dive
Achievements
2x NHL Most Penalized Player (2004, 2006)
Sources