The Los Angeles Kings' prospect system is considered one of the best teams in the NHL. LA shows both quality and quantity in their young, up-and-coming, players. The team is stacked down the middle, balancing out the depth charts at the 2020 NHL Draft.
The Kings' outstanding group of prospects is well-represented at the 2021 World Junior Championship, where they have a league-leading nine players in attendance. The teams have just wrapped up preliminary-round play in the Edmonton bubble, and all nine Kings prospects will continue to the quarterfinals. Throughout the preliminary rounds, LA's prospects have represented well, exciting Kings fans for what is to come.
Quinton Byfield, Center, Canada
Byfield is the most hyped prospect for the Kings right now. The organization selected him with the second overall pick at the 2020 NHL Draft. He put up 82 points in 45 games with the Sudbury Wolves of the OHL in the 2019-20 season. At the 2020 WJC, Byfield struggled, scoring a single assist in seven games.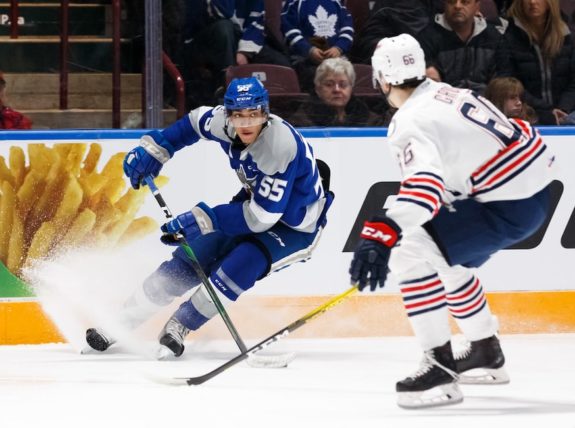 The start of the 2021 WJC showed the same. Byfield couldn't break through until Canada's third game of the tournament. They shutout the Swiss by a final score of 10-0, and in this blowout, Byfield put up six points, two goals, and four assists. This would bring his final preliminary round stats to a total of four games played, with two goals, five assists, seven points, and a plus-minus of plus-seven. While a plus-seven looks good, Canada finished with a goal differential of plus-29. Due to his inconsistency, it will be interesting to see how Byfield performs throughout the elimination rounds.
Jordan Spence, Defenseman, Canada
The Kings drafted Spence 95th overall in the 2019 NHL Draft. Last season, he played for the Moncton Wildcats of the QMJHL, totaling 52 points in 60 games. So far this season, Spence has added 16 points in 13 games. The 19-year-old was originally born in Australia, moved to Japan, then landed in Canada as a teenager. He only played one game for Canada throughout the preliminary round but scored a goal in that game, finishing as a plus-one.
Lukas Parik, Goaltender, Czech Republic
The Kings' goaltending situation will be something to look out for in the coming season. Longtime starter Jonathan Quick is on a decline, and while Calvin Petersen looks to be ready to take on a larger role, he hasn't played many games for the Kings over the last couple of seasons.
Parik is one goaltender the team also has in the pipeline, posting a .917 save percentage (SV%) and a 2.73 goals against average (GAA) last season with the Spokane Chiefs of the WHL. He's shown some ups and downs throughout the preliminary round at the WJC this year, though.
Parik started against the Russians, and due to his stellar play, stopping all 30 shots, the Czech Republic was able to pull off the upset by a final score of 2-0. He would also start against the Americans, but their offensive firepower was simply too much for him to handle. He would go on to give up seven goals on 30 shots. His preliminary round would end with a .883 SV% and 3.77 GAA. The Czech Republic isn't expected to do much in the elimination rounds, but if Parik starts, it will be fascinating to see what he can do against the favorite, Team Canada.
Kasper Simontaival, Winger, Finland
When the Kings drafted Simontaival with the 66th overall pick at the 2020 NHL Draft, he was considered a steal. Prior to the draft, his quick hands and lethal shot showed rankings as high as 26th overall. In the 2019-20 season, he played for Tappara U20, posting 57 points in 48 games. One could argue, he has played the best out of any Kings prospect at the tournament so far.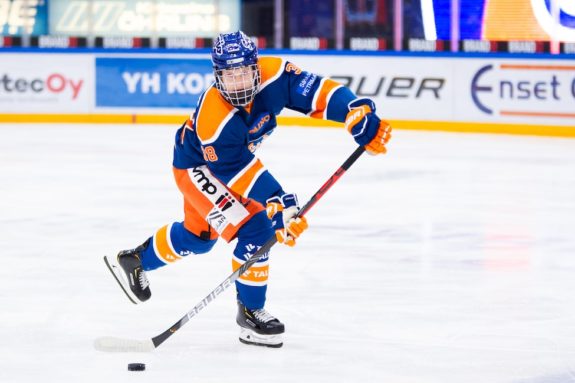 Finland lost just one game in the preliminary round to the undefeated Team Canada, and Simontaival was a big part of that. He is a smaller guy at 5-foot-9, 174 pounds, but he played all four games, putting up two goals, three assists, five points, and he finished as a plus-three. For a third-round draft pick, this is very impressive. Hopefully, he can continue his success throughout the elimination rounds, one day making his way to Los Angeles.
Martin Chromiak, Winger, Slovakia
Similar to Simontaival, Chromiak was a steal at the draft for the Kings. He was ranked as high as 29th overall prior to the draft, but LA was able to pick him up in the 5th round, 128th overall. In the season before his draft, Chromiak played for the Kingston Frontenacs of the OHL, posting 33 points in 28 games.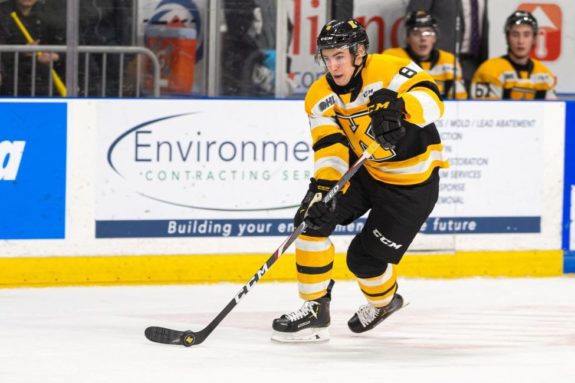 Slovakia only won one game throughout the preliminary round, 1-0 over Switzerland. Even though he is not on a great team, Chromiak's stats could have been a bit better. He played all four games, scoring one goal for a total of one point. He also finished the preliminary round a minus-six. So far, he has been a bit disappointing, but he still has a chance to do something for Slovakia in the eliminations rounds, though they are paired up against the Americans, who are the heavy favorite for that game.
Tobias Bjornfot, Defenseman, Sweden
As far as defensive prospects go, Bjornfot is at the top of the list for the Kings. They picked him up in the 2019 NHL Draft, 22nd overall. Last season, he played mostly in the AHL with the Ontario Reign, putting up 19 points in 44 games. He did get a shot in the NHL, playing three games, but he didn't have anything to show for it.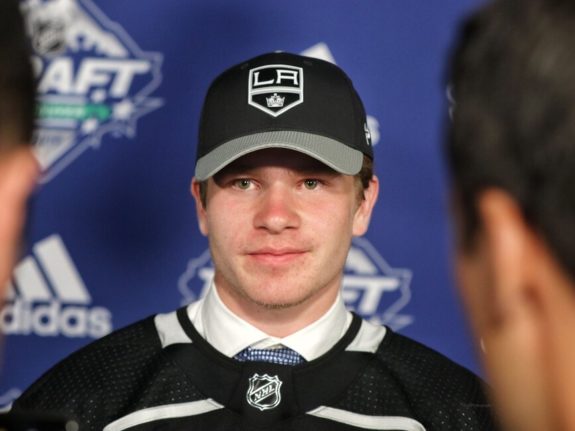 Bjornfot completed the preliminary round, playing four games, scoring two assists, for a total of two points, both of which came against the Czech Republic. While this isn't great, he isn't expected to put up a whole lot of points once he gets to the NHL, as he projects as more of a defensive defenseman.
Bjornfot's plus-one is a bit concerning considering the team played significantly better than that, blowing out the Czech Republic, and had a solid game against Austria. As a defensive player, Kings fans should hope to see some better stats throughout the elimination rounds when it comes to goals against with Bjornfot on the ice.
Brock Faber, Defenseman, United States
Faber is another solid defensive prospect for the Kings, drafted 45th overall in 2020. Last season, he played for the U.S. National U18 Team, putting up 12 points in 46 games. Team USA had a tough time getting started at the WJC, but picked it up after their first loss to the Russians. And Faber has been quite impressive in these games.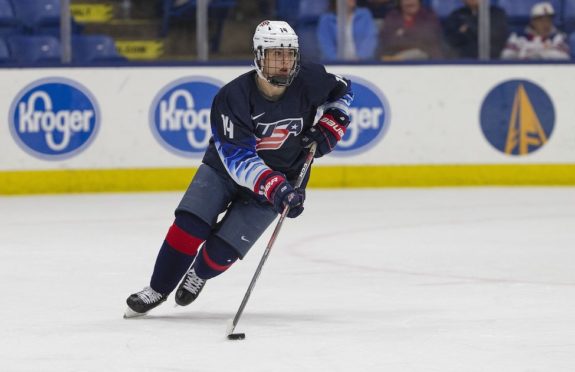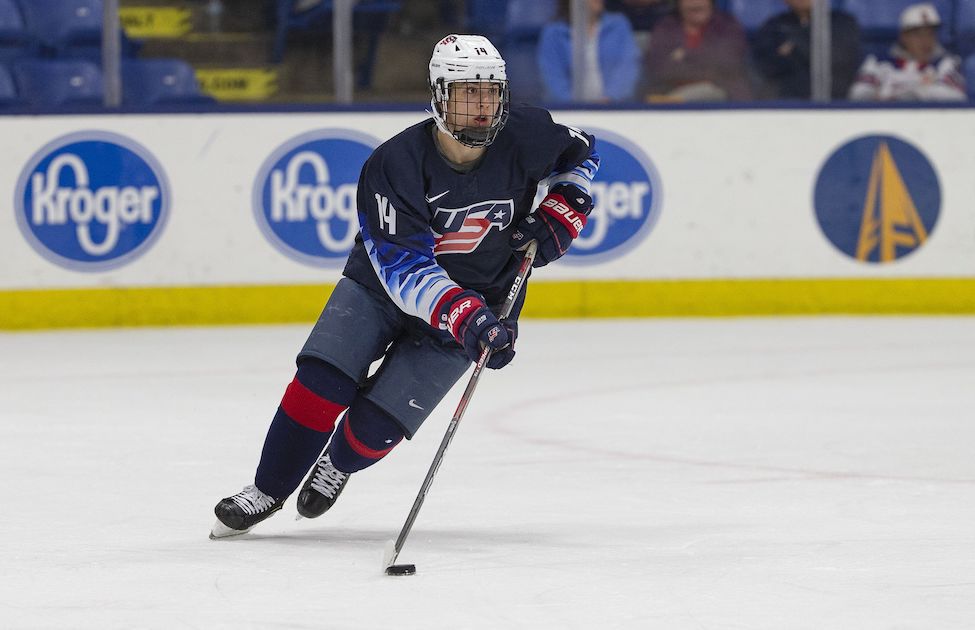 Faber has played every game for the Americans, picking up four assists, four points total. Two of these assists came in the USA's big win over Austria. What has been really impressive about Faber, so far, has been his defensive play. He finished the preliminary round as a plus-seven and was only on the ice for one goal against. Hopefully, he can continue this reliable defensive play throughout the elimination rounds.
Arthur Kaliyev, Winger, United States
Kaliyev was the Kings' steal of the 2019 NHL Draft, as he was ranked as high as ninth overall, but ended up getting selected by LA 33rd overall. He is an elite offensive talent, but some had concerns about his defensive play, which is what likely dropped him down the draft rankings. Last season, his offensive talent showed, as he up 98 points in 57 games for the Hamilton Bulldogs of the OHL.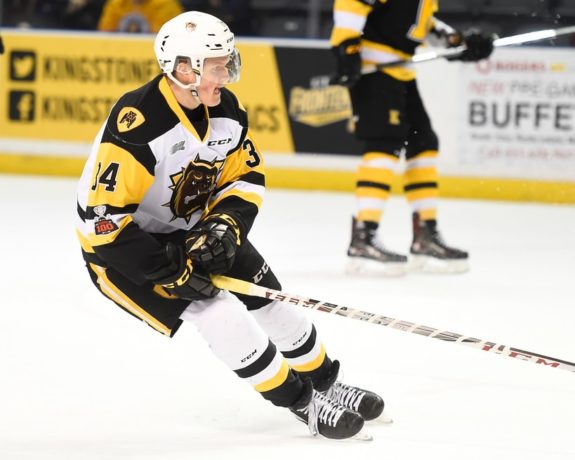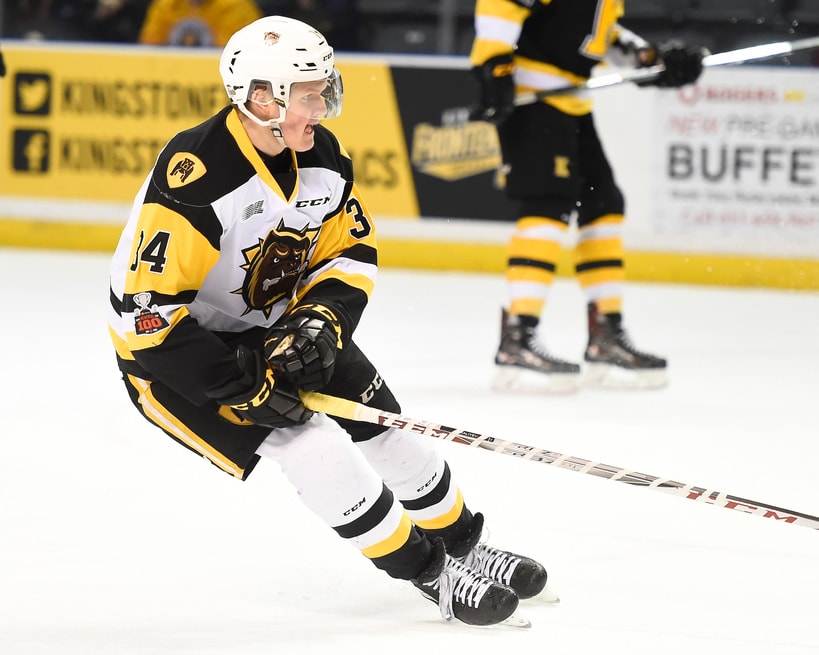 Throughout the preliminary round of the World Juniors, Kaliyev has put up one goal, three assists for a total of four points in four games. He has shot the puck a lot and has generated offense, as is expected from him. Unexpectedly, he has also impressed on defense. He was on the ice for one goal against, finishing as a plus-six. Although he is playing on a very good team, this is reassuring for Kings fans, considering some have concerns about this side of his game.
Alex Turcotte, Center, United States
Alongside Byfield, Turcotte is a prospect surrounded by hype for what he can bring once he gets to the NHL. The Kings selected him with their fifth overall pick in the 2019 NHL Draft, and he would go on to put up 26 points in 29 games for the University of Wisconsin in the season after his draft. He is an all-around good player, and this well-balanced play has shown throughout his first four games at the 2021 WJC.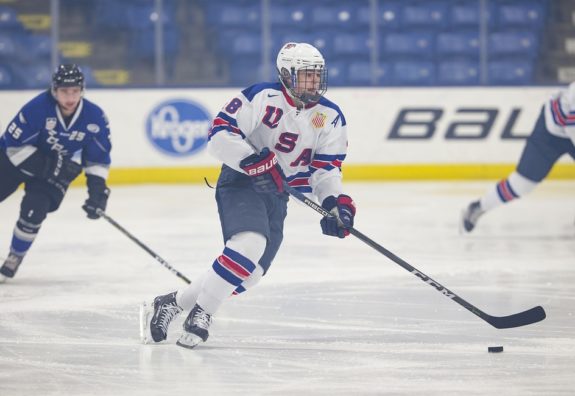 Turcotte has put up one goal and four assists for five points and also finished the preliminary round as a plus-five. He put up three assists versus Austria and also scored a goal and an assist in the USA's win over Sweden. This is about what is expected of him, as he projects as a solid NHL center within the next couple of seasons. The USA should look to Turcotte to contribute even a bit more throughout the elimination rounds if they want a shot at winning the tournament.
Kings Fans Should Be Happy With What They Have Seen So Far
While not every Kings prospect has had an outstanding tournament, so far, there haven't been many disappointing showings. Almost all of the team's prospects are performing slightly above average, which is quite good considering many haven't played this season due to COVID-19. Six of eight skaters for the Kings have shown at least one point per game throughout the preliminary round. Fans should also be happy with Parik's performance, considering the team he is on, after his shutout versus Russia. Kings fans will get to see all nine prospects in the elimination rounds continue their solid play, and they should see some in the NHL soon.
All the 2021 World Junior Championship Team Information:
Austria — Team Preview — Roster
Canada — Team Preview — Roster
Czech Republic — Team Preview — Roster
Finland — Team Preview — Roster
Germany — Team Preview — Roster
Russia — Team Preview — Roster
Slovakia — Team Preview — Roster
Sweden — Team Preview — Roster
Switzerland — Team Preview — Roster
USA — Team Preview — Roster
Selection Camp Invites by NHL Team
Draft Eligible Players to Watch
One Player to Watch for Each World Junior Team
7 Predictions for the 2021 World Junior Championship
---
---