After Rasmus Sandin and Nick Robertson's success at last year's World Junior Championship, the Toronto Maple Leafs will again be well represented in 2021.
With six prospects taking part in the tournament, there is no shortage of talent from their prospect pool vying for a gold medal. There might have been seven since Robertson is still eligible to participate, but he wasn't added to the roster. TSN's Bob McKenzie reported that while the Maple Leafs would have liked for him to participate, the main goal is for him to make the NHL club.
Related: World Juniors Guide
While it would've been great to see him tear it up at the tournament, there are still plenty of prospects for Maple Leafs fans to watch and evaluate.
Rodion Amirov, LW/RW, Russia
If you don't know Amirov, then you've been missing out as he's been spectacular since he was selected 15th overall in the 2020 NHL Draft. Even though the tournament hasn't started yet, Amirov is poised to be an essential player to Team Russia's success.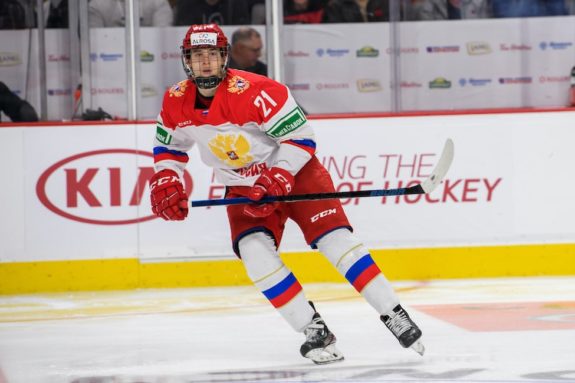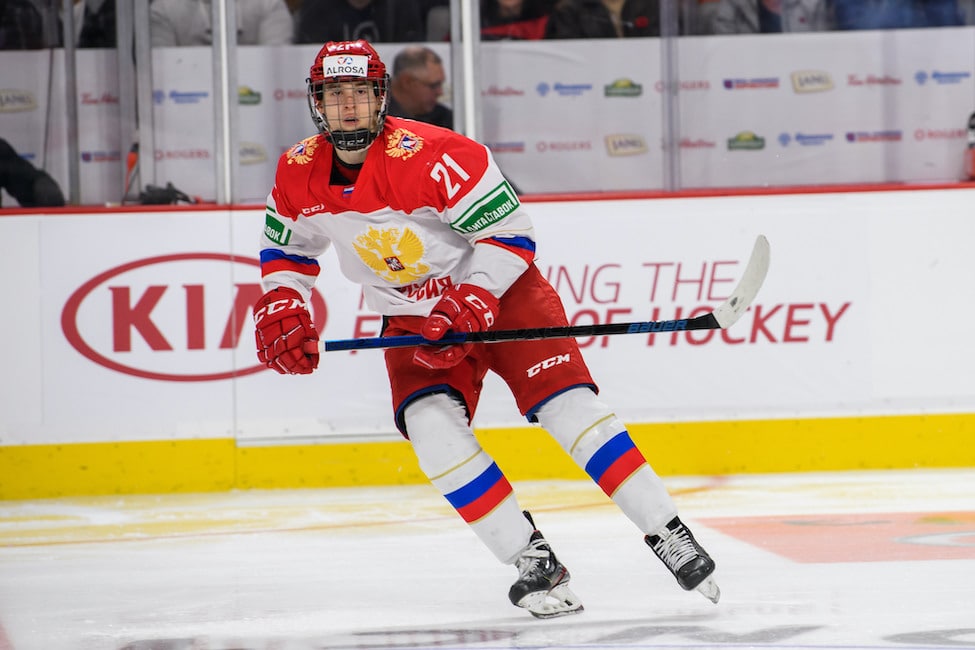 In 23 games with Salavat Yulaev Ufa this season, he's scored five goals and three assists while averaging less than 14 minutes of ice time a game. He's making the most of his opportunities whenever he's on the ice. After being named best forward at the Karjala Cup, Amirov is going to get another chance to show his skillset at the World Juniors. At the moment, he's slotted in on the top line with Marat Khusnutdinov (Minnesota Wild, 37th overall, 2020) and Vasily Podkolzin (Vancouver Canucks, 10th overall, 2019). 
There's a reason why he's earned a spot as one of Russia's top forwards. Amriov's speed, quick hands and shot are what make him such a great prospect. He's highly competitive and is constantly battling for the puck. While most will look at his offensive game, his defensive play is just as strong as he's able to get into shooting lanes and pressure the puck carrier to create a turnover.
His presence on the top line is a reason why this line is going to be difficult to contain. In a tournament that's not short on talent, Amirov will be a major contributor.
Mikahil Abramov, C/RW, Russia
Abramov has continued to impress since the Maple Leafs drafted him in the fourth round of the 2019 Draft. After recording 35 goals and 76 points in 2019-20, he registered 14 points in nine games as captain of the Victoriaville Tigres. Despite limited games, Abramov has been outstanding and has caught the eye of the Russian National Junior Team. 
This isn't his first time representing his country. Abramov tallied seven points in five games at the 2018 Hlinka Gretzky Cup, finishing in the top 10 in scoring while earning a bronze medal in the process.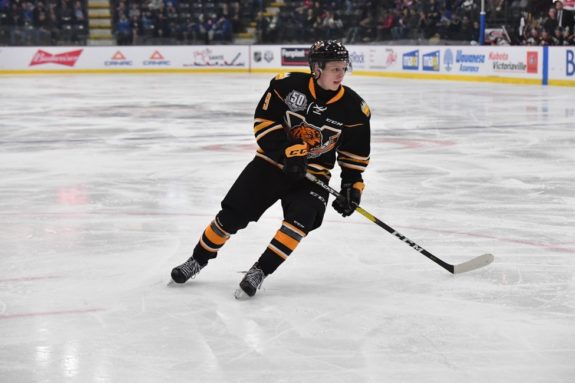 Abramov's speed and play-making ability are going to be a tremendous asset for Russia at the tournament. It's still uncertain where he fits in the lineup, but, given his talent, he should be the second-line centre behind Khusnutdinov. Head coach Igor Larionov says he likes Abramov's hockey IQ, but he is listed as the team's fifth centre at the moment.
Abramov still has some work to do. He's going to have to prove himself to Larionov in order to get more meaningful minutes instead of being a healthy scratch.
Artur Akhtyamov, G, Russia
After two strong seasons where he had a .921 (2018-19) and a .931 (2019-20) save percentage (SV%) and back-to-back 20-win seasons, Akhtyamov is off to a good start with Bars Kazan in Russia's second highest level, the VHL.  
Sporting a .935 SV% and a 3-2-3 record, the Maple Leafs' fourth-round pick earned himself a spot as one of Team Russia's three goaltenders. He has great movement in the net, good vision to locate the puck, and he's also aggressive at challenging the shooter, which is also why he gets into trouble at times. 
Realistically, Akhtyamov won't see much game time. Yaroslav Askarov, selected by the Nashville Predators 11th overall in 2020, is the undisputed starter. But in back-to-back games or when Askarov needs a rest, you can expect to see Akhtyamov in the crease. 
Roni Hirvonen, C, Finland
In his second pro season in the Liiga with Ässät, Hirvonen has become one of a few prospects who have caught the attention of Leafs Nation. With nine points in 21 games in the 2020-21 season, Hirvonen has improved his value as a prospect. He'll get an opportunity to showcase his skill set and increase his stock with Team Finland at the World Juniors.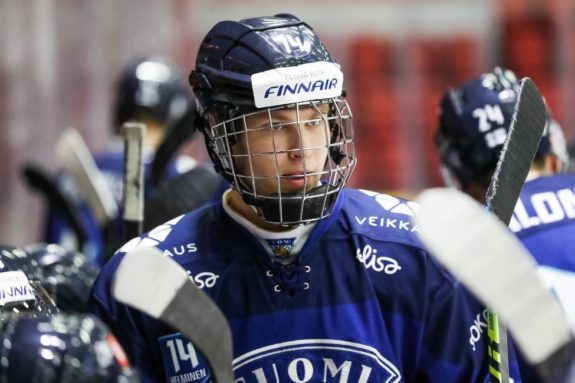 He's small but he plays a big game. At 5-foot-9, 172 lbs, his ability to compete and to battle for the puck to gain possession stands out. He's responsible in all three zones; capable of breaking up plays in the defensive zone, quick in transition through the neutral zone and has great vision and speed to attack in the offensive zone while making accurate passes. He also has a propensity to drive the net and the high-danger areas. 
The Maple Leafs selected him with their second-round pick, 59thoverall in the 2020 Draft and Hirvonen was playing a game when he was notified on the screen that he had been drafted. 
Despite the increase in production and more minutes in the Liiga, he's likely to be Finland's third-line centre, and he could see some time on special teams. He could make a real impact offensively.
Mikko Kokkonen, D, Finland
One of three returning defensemen from last year's tournament, Kokkonen is going to see more ice time and is going to be a major fixture on Finland's top-four defensive unit. He's also taken on a leadership role, as an alternate captain.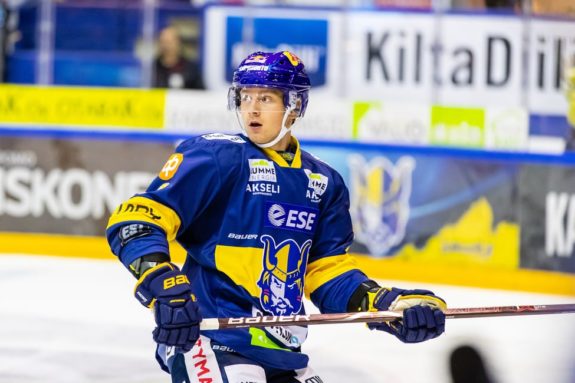 Last year, Kokkonen scored two goals in seven games as Finland lost to Sweden in the bronze medal game. While there are many others to carry the offensive load up front and on defensive, Kokkonen will again bring his steady defensive game to the table. 
His defense-first mentality will complement a defense that already has srong offensive-minded players like Ville Heinola. While he'll be fixture on the penalty kill, Kokkonen's offensive game shouldn't be ignored. He hasn't put up strong offensive numbers, but he does have a great wrist shot that can reach the net and he can distribute the puck really well. Having a player like Kokkonen as one of Finland's go-to defensemen is going to help them go far in the tournament.
Topi Niemela, D, Finland
With Kokkonen and the other returning players who will play a major role on Finland's defense, another player of importance is Niemela, the Maple Leafs' third-round pick in 2020. 
Like Hirvonen, Niemela is in his second professional season in the Liiga. In the 2019-20 season, he had six assists and seven points in 43 games. With more ice time and more opportunities in 2020-21, he has three assists in nine games played. 
His two-way play is a real asset for Finland. While Niemela isn't a big-time offensive point-producer, he does so much that makes him an excellent player. He possesses great speed and mobility, which allow him to be an effective puck-mover and push the play forward. Defensively, Niemela has great positioning and awareness, and he's a key player on the penalty kill. 
There's a good chance that Niemela could be used on Finland's second defensive pairing. He has great vision to locate his teammates and make excellent passes for clean breakouts or quick movement in the offensive zone. In Finland's pre-tournament game, he had a major impact offensively, with two power-play points, a goal and an assist, against the United States. 
The talent the Maple Leafs have at this tournament is strong. Four of their six prospects at the tournament were drafted in 2020 and they now have a great opportunity to add to their value. The combination of speed, skill and smarts will be on display when the tournament starts. Fans should be excited.
All the 2021 World Junior Championship Team Information:
Austria — Team Preview — Roster
Canada — Team Preview — Roster
Czech Republic — Team Preview — Roster
Finland — Team Preview — Roster
Germany — Team Preview — Roster
Russia — Team Preview — Roster
Slovakia — Team Preview — Roster
Sweden — Team Preview — Roster
Switzerland — Team Preview — Roster
USA — Team Preview — Roster
Selection Camp Invites by NHL Team
Draft Eligible Players to Watch
One Player to Watch for Each World Junior Team
7 Predictions for the 2021 World Junior Championship
---
---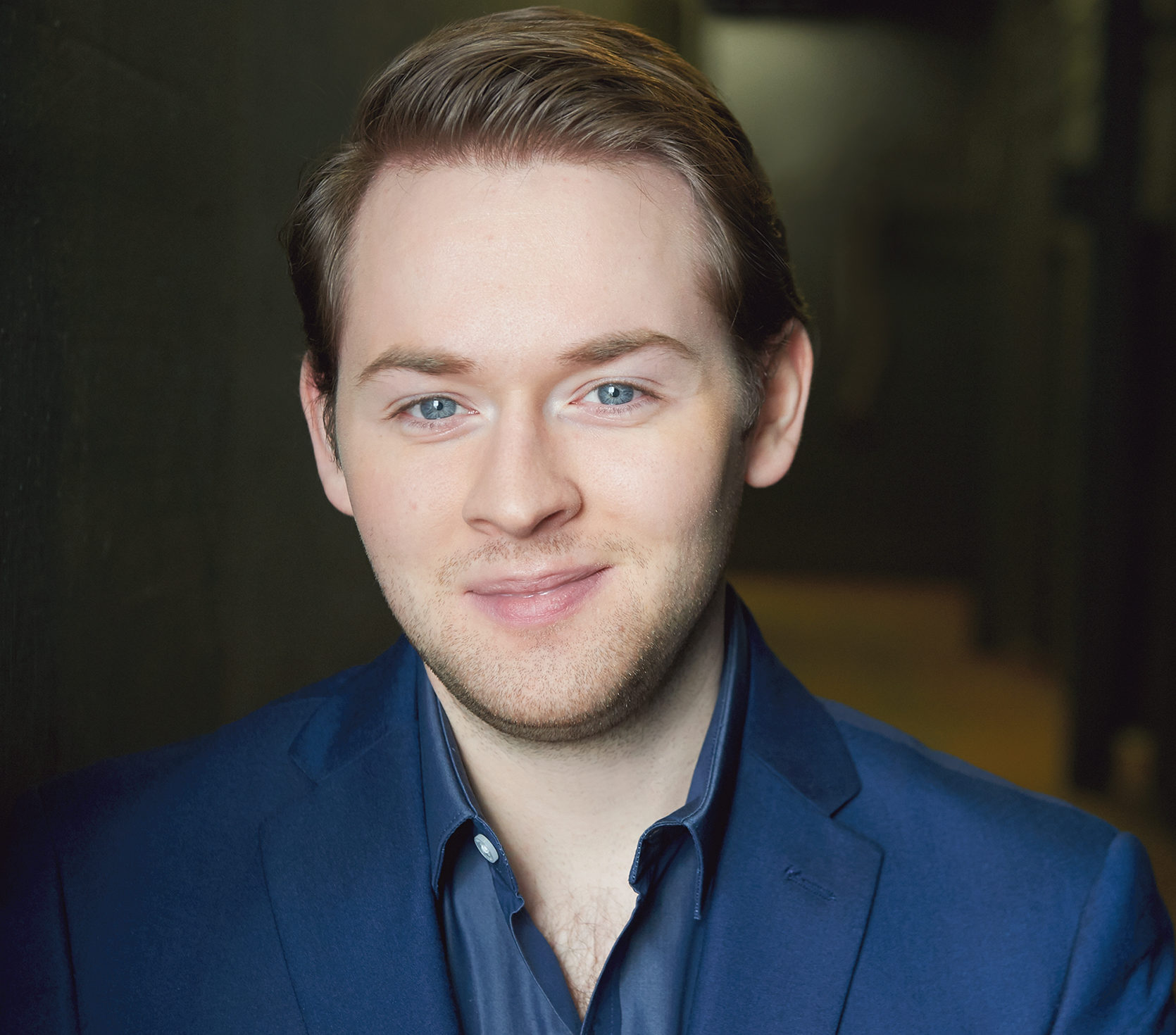 Peter is in his third year with The Hockey Writers, covering the Toronto Maple Leafs and heading the Draft and Prospects section. He has previously interned at The Hockey News and worked on Toronto Marlies broadcasts for Rogers TV. He currently is the co-host of the podcast Sticks in the 6ix and a frequent guest on Maple Leafs Lounge. Aside from hockey, he also enjoys drumming, animation and impressions/ voices.