After a glorious week of hockey at the World Junior Championships, the Preliminary Round has come to a close, and the field has been trimmed to eight teams. With a one-day breather scheduled on New Year's Day, it's the perfect time to reflect on what we've learned before the quarterfinals begin.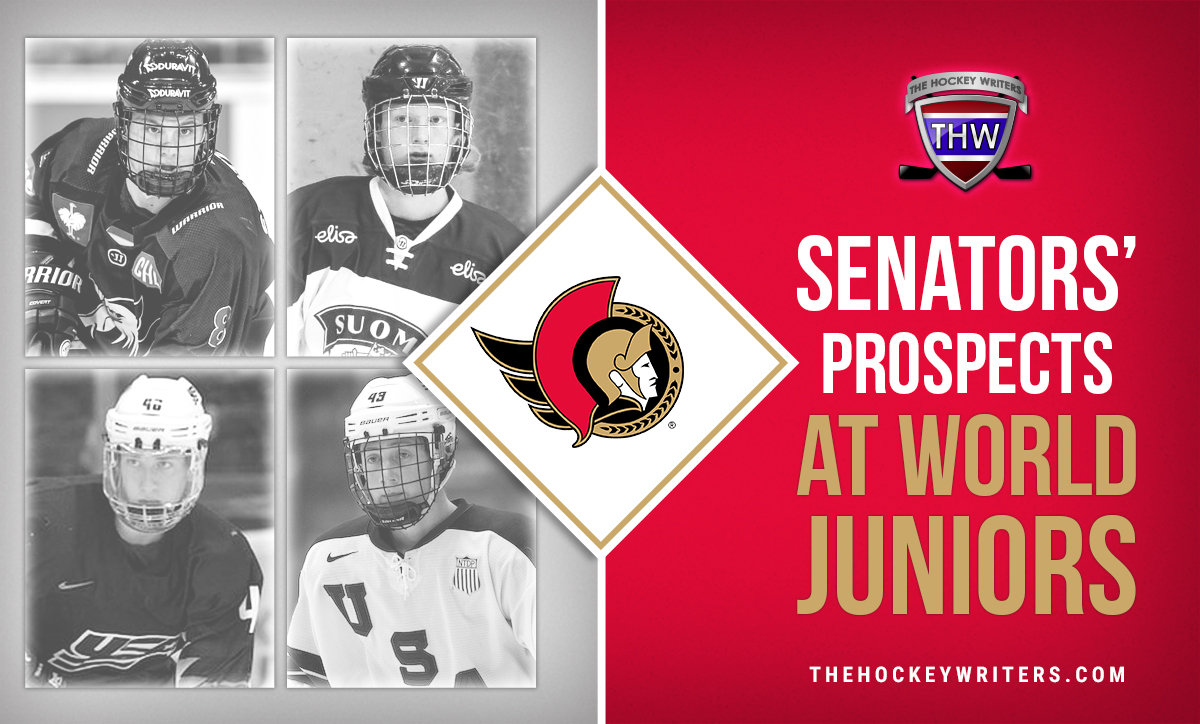 The Ottawa Senators sent four prospects to the WJC this year — Tim Stuetzle, Jake Sanderson, Tyler Kleven and Roby Jarventie. The quartet has experienced varying degrees of success, but fans should be optimistic based on their performance so far.
Here's a breakdown of everything you need to know about Ottawa's participants from the group stage.
Tim Stuetzle
Team: Germany
WJC Experience: Second Appearance
Age: 18
Games Played: 4
Goals: 5
Assists: 5
Points: 10
Through four games, Stuetzle looks every bit the superstar Ottawa hoped he'd be when they selected him third overall in the 2020 NHL Entry Draft. He's been one of the best players on any team so far this tournament; in fact, he's been downright special in every single game.
Germany – 3 v. Finland – 5
Stuetzle: 1G, 1A, +1
No team had a rougher start to the WJC than Germany. They were forced to quarantine nine of their players due to COVID-19 protocols, leaving them with just 14 skaters in their first three games.
Finland scored early and built a 3-0 lead, but Stuetzle cut the lead to one in the second frame. He hurled himself into a defenceman along the boards, then burst into the neutral zone to create a two-on-one.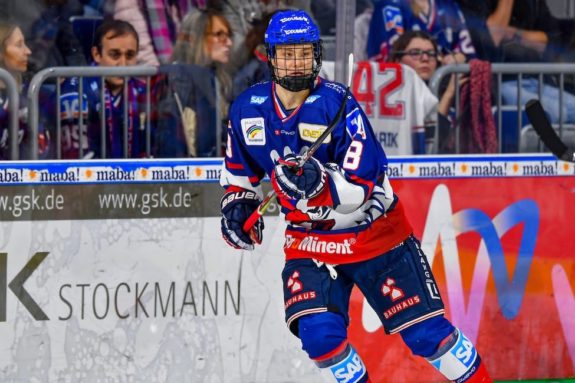 With John-Jason Peterka streaking down the left wing, Stuetzle rushed to the left circle, opened up to receive a perfect pass sniped his first of the tournament from one knee.
The Finns held a 5-2 lead into the third, but midway through the final frame, Stuetzle showed off his burst once again. He flew down the left wing and looped behind the net and back up to the point. His shot was blocked, but Florian Elias banged in the loose puck.
That's as close as the shorthanded Germans would get. Stuetzle finished with six shots and countless opportunities; the phenom also flashed some physicality that wasn't present in last year's World Juniors.
Germany – 2 v. Canada – 16
Stuetzle: 0G, 0A, -7
This one hurt. Stuetzle was held pointless and finished with a -7 plus/minus. But one thing this blowout did show was Stuetzle's passion; it would've been easy for him to go through the motions and wallow in self-pity because the Germans were so undermanned.
Instead, Stuetzle showed resolve. He continued to push the pace and play physically, even flipping Canada's captain Bowen Byram into his own bench. He kept attacking, desperately searching for any cracks in Canada's armor; unfortunately for Germany, he couldn't find any, but he was still named his team's Player of the Game.
3 Slovakia v. Germany 4
Stuetzle: 2G, 1A, +1
After being outscored 21-5 with an 0-2 record halfway through the preliminary round, this was a must-win for Germany, and Stuetzle embraced the challenge.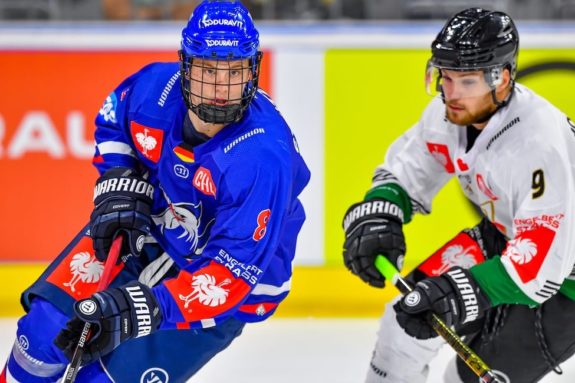 He opened the scoring just over five minutes into the first period, taking a drop pass and dancing around the defense with a nifty toe drag. He ran out of room and missed on the short side, but instead of giving up on the play, he cut back in front of the net, gained inside position and deflected the puck past the helpless goalie.
Down 2-1 in the second, Stuetzle curled behind his own net, and took it end-to-end, firing a shot off the goalie's mask before it deflected off Slovakian defenceman Simon Becar into his own net.
Four minutes into overtime, Stuetzle picked up the second assist on Mario Zimmermann's game-winner.
Switzerland – 4 v. Germany – 5
Stuetzle: 2G, 3A, +2
This game was Stuetzle's masterpiece. Germany finally had a full lineup at their disposal, and they needed just a single point to advance to the knockout stage.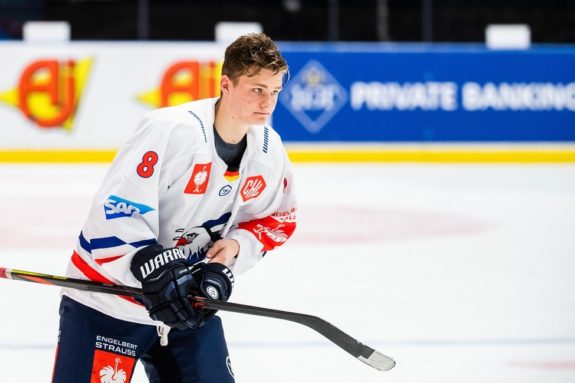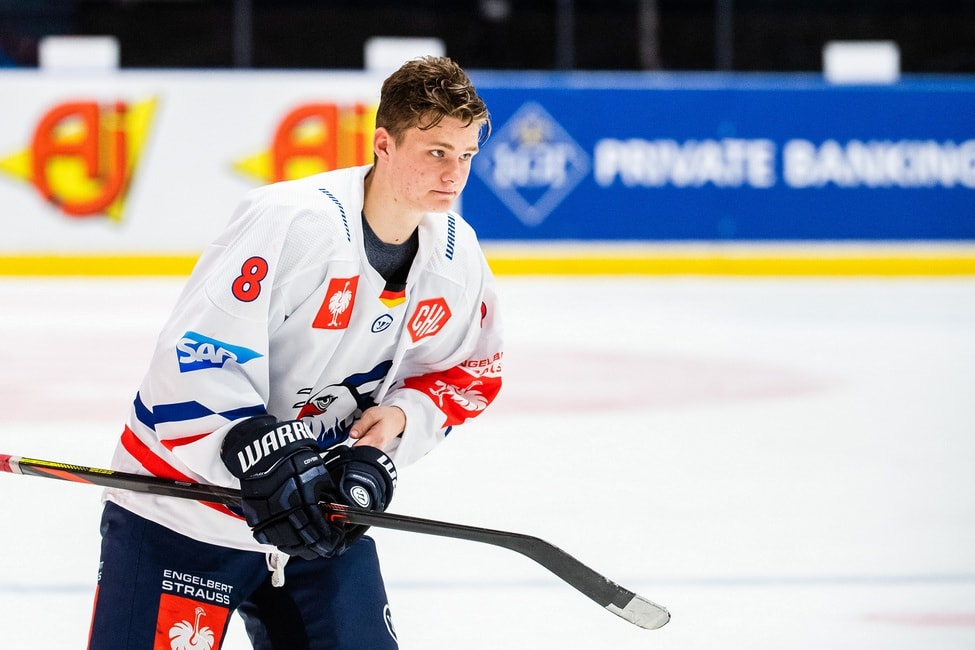 Germany came out flying — Stuetzle and Peterka traded goals, each scoring a pair to take a 4-0 lead. But it was Stuetzle's first goal of the game that stole the show.
Take a closer look at Stuetzle's spinning, around-the-body highlight-reel goal; the slow-motion look does it justice. On his second goal, he took a drop pass, shielded the puck and cut across the middle, firing a low wrister into the mesh; he looked like a man amongst boys.
The Swiss regrouped during the second intermission, scoring a pair of goals midway through the third. But with the net empty and Switzerland desperate for a goal, Stuetzle fired the puck at the empty cage from his own end. Peterka settled the puck and tallied the insurance marker.
It turned out to be the winning goal, as Switzerland added two more in a frantic final two minutes. Stuetzle's defensive growth was clearly noticed by the coaching staff as he was frequently on the ice as Germany closed out the game. However, after leading all forwards in ice time through the first three games, averaging close to 25 minutes a night, he was clearly exhausted.
Stuetzle was fired up once the buzzer sounded and Germany qualified for their first quarterfinals in team history.
"It's an unbelievable feeling. Everybody knew we had a tough situation, and we fought through it together… we totally deserved it, I'm so proud of the guys. I was exhausted, I just wanted the game to be over."

Stuetzle told TSN following Germany's 5-4 victory over Switzerland.
Germany will face Russia in their first-ever appearance in the knockout stage, and if they have any chance of advancing, Stuetzle will need to be even better than he's been in the early stage.
But if there's anything to take away from the captain's performance, it's that there might be no limit to how good Stuetzle can be. Before he even puts on the Senators' jersey for the first time, the young German looks like the centerpiece of Ottawa's promising rebuild.
Roby Jarventie
Team: Finland
WJC Experience: First Appearance
Age: 18
Games Played: 4
Goals: 0
Assists: 0
Points: 0
Evidently, the Senators' front office is not just being held to a high standard internally; all of the sudden, fans are bemoaning the team's selection of Jarventie while Stuetzle's countryman Peterka was still available. In fact, some seem ready to give up on him entirely after celebrating his sensational start with Ilves Tampere of the SM-liiga not long ago.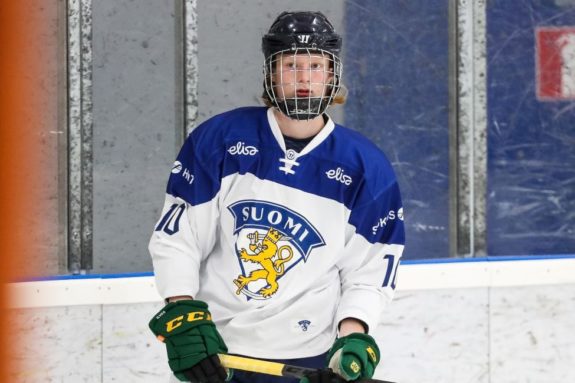 While the Finnish youngster has admittedly underwhelmed at the WJC so far, this is his first appearance in international competition less than six months after turning 18, as a member of one of the tournament's best and deepest teams.
Perhaps the most disappointing part of Jarventie's contributions so far is that his role is smaller than many expected, and it seems to be diminishing as the tournament goes on. In Finland's opening win over Germany, Jarventie started on the second line. As The Athletic's Senior NHL Prospects writer Corey Pronman noted, Finland's lone line change against Canada was dropping Jarventie to the third line.
The young Senators prospect still has a great opportunity to change the narrative in Finland's quarterfinals matchup with Sweden. He has a ton of room for improvement; he's tied for tenth with seven shot attempts, fewer than four of the team's defenseman. He also has the team's worst plus/minus (-2), the only player on the team with a negative one.
Jarventie has a long way to go, but it's much too early to give up on him.
Jake Sanderson & Tyler Kleven
Sanderson:
Team: USA
WJC Experience: First Appearance
Age: 18
Games Played: 4
Goals: 0
Assists: 1
Points: 1
Kleven:
Team: USA
WJC Experience: First Appearance
Age: 18
Games Played: 2
Goals: 0
Assists: 1
Points: 1
The dynamic duo of Senators prospects are a huge part of the North Dakota Fighting Hawks' success early in the NCAA season. While their stats at the World Juniors might not jump off the page, both helped Team USA grab the top spot in Group B.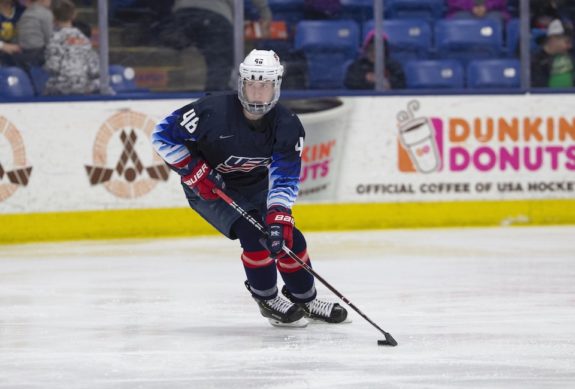 The Americans opened play with a 5-3 loss to Russia that Kleven watched from the sidelines. Sanderson started on the second pairing and uncharacteristically coughed up a costly turnover right into the slot that extended Russia's lead to two. He finished his World Juniors debut pointless.
Both defenders found some redemption in Team USA's 11-0 beatdown of Austria the next day. They each finished with an assist, Kleven's of the highlight variety. His helper came on a rebound after a beautiful toe-drag reminiscent of his first goal with UND this season.
He also leveled Mathias Bohm at center ice with one of the tournament's biggest hits and rushed in to defend teammate Patrick Moynihan after he was taken into the boards hard on a blindside hit near the game's end.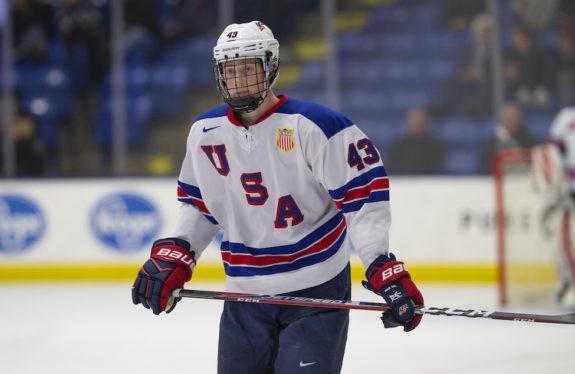 Kleven was (surprisingly) scratched in the 7-0 victory over the Czech Republic, but Sanderson earned a promotion to the top pairing. He was quietly effective, using his elite skating and positioning to ward off the opposition's attack and limit the scoring chances. As an added benefit, he had a front-row seat to the Trevor Zegras show.
In USA's final group stage game, Kleven was back on the ice, and he made his presence felt; they don't call him the K-Train for nothing. Sweden's Philip Broberg crossed the tracks at the wrong time, and Kleven sandwiched him into the glass right beside the American bench.
Sanderson should not be overlooked; he's seized a role on the top pairing thanks to his understated game and solid fundamentals. As Providence head coach Nate Leaman told Jon Morosi ahead of USA's quarterfinals matchup with Slovakia, "He's quietly elite."
The Big Finish
This year's World Juniors tournament has already been special, with breakout stars and unexpected victories. It's been even better for Senators fans, who have watched four of their prospects compete against some of the best young players in the world.
Stuetzle appears destined for stardom. Sanderson has been efficient and effective, while Kleven has provided bone-crushing highlights. Jarventie has struggled to meet expectations, but making such a talented roster is a victory in itself.
With the medal round just ahead, this tournament has played out perfectly for the Ottawa faithful — all four prospects still have a chance to win gold. If you've enjoyed their performances so far, you won't want to miss what's next for any of these Senators' prospects; make sure you tune in.
All the 2021 World Junior Championship Team Information:
Austria — Team Preview — Roster
Canada — Team Preview — Roster
Czech Republic — Team Preview — Roster
Finland — Team Preview — Roster
Germany — Team Preview — Roster
Russia — Team Preview — Roster
Slovakia — Team Preview — Roster
Sweden — Team Preview — Roster
Switzerland — Team Preview — Roster
USA — Team Preview — Roster
Selection Camp Invites by NHL Team
Draft Eligible Players to Watch
One Player to Watch for Each World Junior Team
7 Predictions for the 2021 World Junior Championship
---
---
Avid hockey fan and fantasy devotee. Graduate of the Radio & Television Sports Broadcasting program at CSM. Former intern with The Hockey News. Operations coordinator at theScore. Proud Canadian and dog lover.