Last December at the World Junior Championship, Sweden went home with a bronze medal. Even though they earned a place in the top three in the tournament, it certainly was not the finish they were hoping to achieve. As the old saying goes, silver is not gold, and nobody remembers bronze.
But Sweden does not merely want a remembrance. Sweden wishes to achieve reverence. Some would argue that Team Sweden boasts the best defense and goaltending out of any team at the World Junior Championship. When coach Joel Ronnmark couples that with two of the country's elite goalscorers and a player with "some of the best sense" Frolunda Indians' general manager Freddie Sjostrom has ever seen, this looks to be a revered gold medal-winning team.
Captained by defenseman Phillip Broberg (Edmonton Oilers) in his third WJC, the team indeed boasts elite-level talent. Several key players should be on everyone's radar. They are game-breakers that will be an integral part of Sweden's success.
1. Lucas Raymond
Lucas Raymond was selected fourth overall by the Detroit Red Wings in the 2020 NHL Entry Draft. He is one of the aforementioned elite goalscorers that will be important to Sweden's success. Raymond has excellent hands and a wrist shot that is so fast it stuns goaltenders when it is in the back of the net.
He can reach full speed with his first two explosive strides, and he has an elusiveness to his game. He can skate into traffic without panicking and stick handle or deke his way out. Lucas has a knack for playing big when important games are on the line as well.
In the 2018-19 gold medal game at the U18 World Juniors, Raymond recorded a hat trick, including the game-winner in overtime to win gold over Russia. He is known as one of the two Terror Twins for Team Sweden.
2. Alexander Holtz
Alexander Holtz is the other Terror Twin and a pure sniper. He was drafted seventh overall by New Jersey in the 2020 NHL Entry Draft. He can score from almost anywhere on the ice.
Holtz has more goals throughout nearly his entire career than assists when it comes to his point totals. If you pass him the puck, he will shoot; it is as simple as that.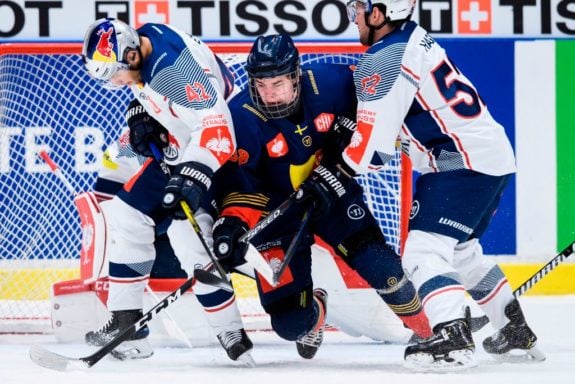 Holtz is now in his second full season with Djurgardens IF, recording 29 points in 54 games spread throughout both seasons, and he's only 18 years old. When he played his first season in the J20 SuperElit as a 16-year-old, he posted 47 points in 38 games. At the start of the next season, as a 17-year-old, he posted nine points in three games, which finally earned him a spot in the SHL. Sweden is hoping the one-two punch of Raymond and Holtz will overwhelm team defenses.
3. Theodor Niederbach

Theodor Niederbach is a man that has a beautiful hockey sense, and some tout him as one of the smartest players scouts have seen in ages. An average-sized center with a knack for playmaking with crisp passes was selected by Detroit 51st overall in the 2020 NHL Entry Draft.
Related: Red Wings Prospects Hope to Capture Gold for Sweden at World Juniors
Niederbach was a last-minute replacement for Karl Henriksson, who typically centers the Terror Twins during tournaments, tested positive for COVID-19. The tournament will be time for Niederbach to show that he can be a top player amongst his peers. The pressure is perhaps on him more than any other player in Sweden. Henriksson, Raymond, and Holtz have been the bread and butter for Sweden for the last three years, continuously leading the scoring charge.
4. Jesper Wallstedt
Jesper Wallstedt is the heir to the throne of Swedish goaltending. Being draft-eligible in the upcoming 2021 NHL Entry Draft at 18 years old, Wallstedt has already developed like a man. He stands at 6-foot-3 and weighs 214 pounds.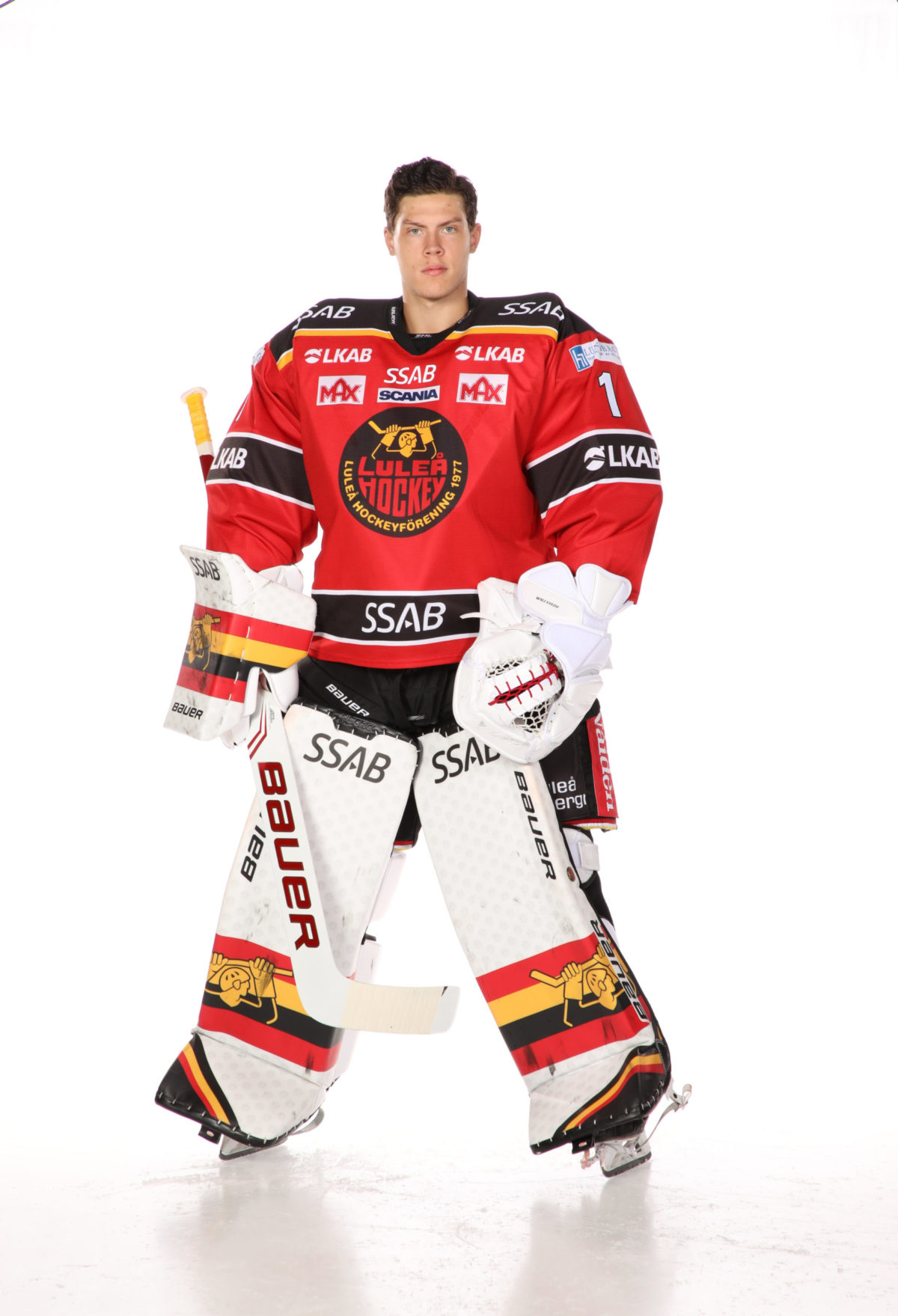 A whisper campaign has begun that Wallstedt is a more skilled, consistent version of Yaroslav Askarov (Nashville). After posting outstanding numbers in the J20 SuperElit for Lulea HF J20, earning 2.53 goals allowed average (GAA) and a .923 save percentage (SV%) spread over 28 games, Wallstedt played one game in the SHL, where he picked up the loss. He had an excellent performance posting a 1.55 GAA and a .944 SV%.
This season, Jesper started back in J20 SuperElit but earned a shutout in his only game of the season and a promotion to the Lulea HF of the SHL full-time. Now, after nine games played and a 6-3 record, two of the wins being shutouts, Jesper has 2.06 GAA and .920 SV%. It seems he is being passed the torch from David Rautio, who is almost double Wallstedt's age and playing half as well.
5. Albert Johansson/Emil Andrae
Johansson and Andrae were the most challenging choices I had to make. Helge Grans would be my choice here, but he was a last-minute cut for two undrafted defenders Alex Brannstam and Ludvig Hedstrom, who are putting up Excellent numbers in the J20 SuperElit. But I could not decide between Johansson and Andrae.
On the one hand, Johansson is one of the most successful defensemen in the SHL in terms of points; Johansson has 20 points in 62 games. He skates effortlessly on the ice and walks the line very well, keeping the puck cycling in the offensive zone like a quarterback rarely missing an assignment. I believe he will round out the top four defenders among Broberg, Tobias Bjornfot, and Victor Soderstrom.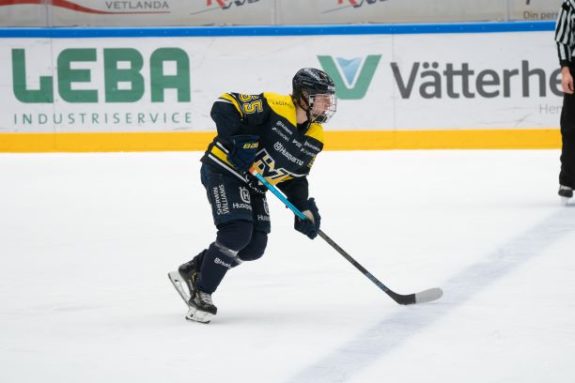 On the other hand, Andrae uses his evasiveness to keep the puck away from the opposition. He goes to dirty areas and is skilled at winning puck battles. Andrae also was the highest-scoring Swedish defender last season in the U18 competition, with 12 points in 13 games. Not being able to decide who will be more interesting to watch is an outstanding problem to have.
Final Thought
Even though Sweden will be missing several excellent players from their roster due to COVID-19, it is my opinion that they made quick, decisive, sound decisions. Making it past the defense will be hard enough, let alone dealing with the goaltending. The top line of Raymond, Niederbach, and Holtz is sure to be a problem. They will also have great secondary scoring from, Zion Nybeck, Noel Gunler, and Simon Holmstrom.
They can break a game open in a matter of seconds. Almost every team looks improved from last year, but it could be that Sweden improved the most. If they win the gold, it will be a massive upset over heavy favorite Canada, but it might not be a wild thought to have team Sweden get hot at the right time.
All the 2021 World Junior Championship Team Information:
Austria — Team Preview — Roster
Canada — Team Preview — Roster
Czech Republic — Team Preview — Roster
Finland — Team Preview — Roster
Germany — Team Preview — Roster
Russia — Team Preview — Roster
Slovakia — Team Preview — Roster
Sweden — Team Preview — Roster
Switzerland — Team Preview — Roster
USA — Team Preview — Roster
Selection Camp Invites by NHL Team
Draft Eligible Players to Watch
One Player to Watch for Each World Junior Team
7 Predictions for the 2021 World Junior Championship
---
---