Austria's upcoming appearance in the top level of the 2021 World Junior Hockey Championship (WJC) will be just its fourth in tournament history. The mountainous country known more for other winter sports like skiing has made the WJC three other times: 1981, 2004 and 2010. A few members of that 2010 roster put up very good numbers, but Austria has also had stars shine in the second division of the tournament. Here's a look at my all-time starting lineup for the country, starting with the forwards.
Thomas Vanek, F
Vanek is the most accomplished player ever to come out of Austria, so it's no surprise to see him here. Drafted fifth overall in 2003 by the Buffalo Sabres, Vanek captained the Austrian team when it made the WJC's top division in 2004. He scored three goals and an assist in six games and somehow managed to rack up 37 penalty minutes.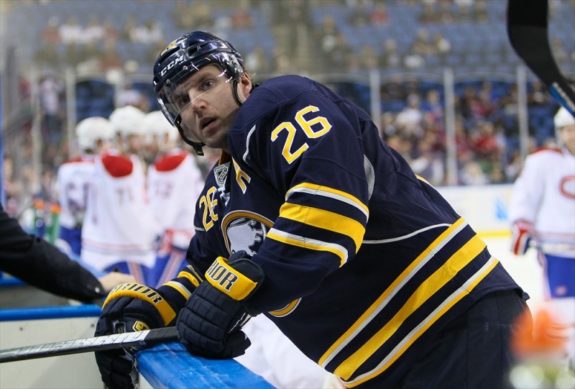 It was Vanek's third trip to the WJC after representing Austria in the second division the previous two years. In 2002, he posted five goals and 11 points in five games, leading his team to the silver medal and was named the top forward in the tournament. The next year, he led the tournament with nine goals and added four assists en route to gold.
Oliver Setzinger, F
Setzinger never made it to the NHL, but the Nashville Predators' third-round pick in 2001 is Austria's leading scorer of all time at the World Juniors when you count lower divisions. The native of Horn played in four U-20 tournaments for Austria. In 2000, at age 16, he had one goal in four games in Division C and Austria won promotion to the second division, where Setzinger would exceed a point per game the next three years.
In 2001, Setzinger scored five goals and two assists in five games — impressive considering he was still young enough to play U-18 hockey as well. For the 2002 tournament, he was named Austria's captain and produced two goals and six points in five games, helping the team win silver.
The next year, in his final season of eligibility, Setzinger absolutely dominated, putting up the most assists in the tournament (9) and the most points (15). Austria won gold and promotion to the top division, when he was too old to play. Now 37, Setzinger went on to a successful career in the Swiss pro leagues, NLA and NLB, and Austria's Erste Bank Eishockey Liga (EBEL).
Michael Raffl, F
Long before he was signed as an undrafted free agent by the Philadelphia Flyers, Raffl played in the 2007 and 2008 WJC for Austria, winning silver in both tournaments. In his first appearance, the winger had modest totals, with a goal and two assists in five games en route to the podium.
In 2008, Raffl was Austria's captain and dominated the competition with five goals and 13 points in five games, enough to be named best forward in the tournament. Raffl played another three years in EBEL and two in the Swedish second division before cracking the Flyers' roster in 2013-14.
Honorable mentions: Rafael Rotter, Andreas Kristler, Konstantin Komarek.
Dominique Heinrich, D
Like Setzinger, Heinrich's name isn't known to many outside European hockey circles. The Vienna native holds the honor of scoring more points in a top-level WJC than any Austrian, ever. Not bad for a defenseman.
Heinrich led Austria in scoring at the 2010 tournament with three goals and seven points in six games while wearing the captain's "C." He was named a top-three player on his team. The previous year, in the second division, Heinrich had a goal and two assists in five games as the team won gold and promotion. He's since gone on to a successful career in the EBEL league.
Stefan Ulmer, D
Ulmer, a Dornbirn native, was also on that 2010 Austrian team. It was his third U-20 appearance for his country. Ulmer wore an "A" for the red and white and compiled six assists in six games, along with 10 penalty minutes. It was a solid tournament for him, building on a 2009 appearance when he absolutely shredded Pool B of the second division. Ulmer scored five goals and 11 points in five games, leading the tournament in goals, assists, points and plus/minus, despite being a defenseman. His performance helped lead Austria to gold and he was named top defender in the tournament.
In his first WJC appearance in 2008, Ulmer recorded a goal and an assist in five games, helping Austria earn a silver medal. Later that year, he won the Memorial Cup with the Spokane Chiefs. Now 29 years old, he has played more than 400 games in the NLA for Lugano and Biel.
Honorable mentions: Thomas Pock, Thimo Nickl.
David Kickert, G
Reinhard Divis may be the only Austrian goalie to have played in the NHL, but Kickert has something he doesn't: a top goalie award at the WJC. Kickert backstopped Austria in the second division in 2013 and 2014. In 2013, he recorded a .915 save percentage (SV%) along with a 3.17 goals against average (GAA), but that's not the year he won the award. It was in 2014, when Kickert posted a .898 SV% and 3.00 GAA, that he was named best goalie in Pool A of the second division. Now 26, Kickert owns a career 2.84 GAA and .911 SV% in 158 EBEL appearances.
Honorable mention: Reinhard Divis.
The Next Wave
Although Austria is a minnow country when it comes to the WJC, many players over the years have put in strong performances in those red and white jerseys. Who will rise to the challenge at the 2021 tournament in Edmonton? Count on Marco Rossi to have a big tournament. Thimo Nickl is a good bet too. Austria will be trying to avoid relegation and qualify for the 2022 tournament.
All the 2021 World Junior Championship Team Information:
Austria — Team Preview — Roster
Canada — Team Preview — Roster
Czech Republic — Team Preview — Roster
Finland — Team Preview — Roster
Germany — Team Preview — Roster
Russia — Team Preview — Roster
Slovakia — Team Preview — Roster
Sweden — Team Preview — Roster
Switzerland — Team Preview — Roster
USA — Team Preview — Roster
Selection Camp Invites by NHL Team
Draft Eligible Players to Watch
One Player to Watch for Each World Junior Team
7 Predictions for the 2021 World Junior Championship
---
---